Sold by the half metre, up to a maximum of one continuous 30 metre length, this high-quality power cable has become the leading wire for high-end custom-designed power cables. Belden 83803 is a 12 AWG cable that features (7×20) tinned copper conductors, Teflon® insulation, 100% Beldfoil® Shield with 85% tinned copper braid shield and a Teflon jacket. The price quoted is per half metre.
If you require a one metre length you will need to put '2' in your basket (i.e 2 x 0.5 metre lengths). The cable will be sent in 1 continuous length.
More information about Belden can be found here.
Cable off the Reel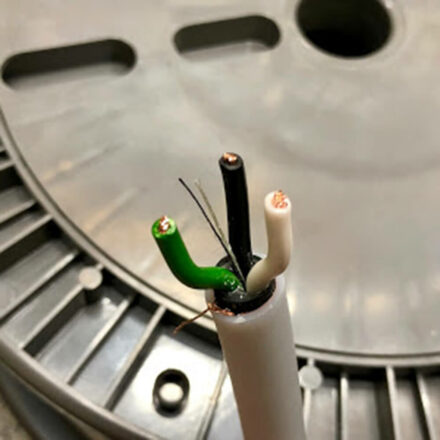 7N DUCC COPPER
FOIL SHIELDED
SOLD PER METRE
DATA SHEET HERE
Japanese craftsmanship comes to cables!
Acrolink 7N purity mains cable per metre off the reel for DIY power leads.
Stressfree 99.99999% Purity Copper
NEW DESIGN spec. sheet here