Mastered from the original master tapes and pressed at RTI on MoFi SuperVinyl, I Robot comes to life with reference-setting realism on this numbered, limited-edition reissue. Boasting immaculate highs and lows, generous spaciousness, and see-through transparency that takes you into the studio with Parsons and creative partner Eric Woolfson at Abbey Road, this definitive edition is designed to demonstrate the full-range capabilities of the world's best stereo systems while offering listeners the convenience of having all the music on one LP.
Featuring a nearly inaudible noise floor, this transcendent UD1S edition functions as a repeat invitation to savor reference-grade soundstages, immersive smoothness, sought-after instrumental separation, three-dimensional imaging, and consummate tonal balances. Able to be played back at high volumes without compromise or fatigue, it is a demonstration record for the ages – the likes of which are no longer being made. This is the very reason you own and invest in high-end audio gear.
The special characteristics of this UD1S version extend to the premium packaging. Housed in a deluxe box, the reissue features special foil-stamped jackets and faithful-to-the-original graphics. Aurally and visually, it is made for discerning listeners who prize sound quality and production, and who desire to fully immerse themselves in everything about this conceptual landmark. Parsons' most famous record deserves nothing less.
Inspired by and loosely based around the Isaac Asimov stories of the same name, I Robot delves into themes of artificial intelligence and technological dominance that make the record extremely relevant in the 21st century. Indeed, Parsons' pinnacle creation dovetailed with the ascendency of Star Wars, which itself is experiencing a rebirth in an age of self-driving cars, smart devices, and mindless automation. Lyrically, songs such as "The Voice" call into question human behavior – and their relationship to increasing robotic supremacy – in everyday life. Parsons musically reflects the associated paranoia, dichotomy, and transformation via shifting sci-fi arrangements steeped in drama and moodiness.
The absorbing tunes on I Robot also continue to fascinate due to their perfectionism and innovation. Borrowing from Pink Floyd's strategies, Parsons utilizes a looped sequence on the title track to create new downbeats. "Some Other Time" employs two different lead vocalists and yet gives the illusion that only one is involved. Captivating strings, a piccolo trumpet, and bona fide pipe organ grace "Don't Let It Show." The origins of "Nucleus" stem from a unique analog keyboard concoction dubbed "the Projectron," devised by Parsons and electronic engineer Keith Johnson. Andrew Powell's orchestral and choral arrangements top it all off, with "Total Eclipse" arriving as a frightening track that presages the climactic "Genesis Ch. 1 V. 32."
MoFi SuperVinyl
Developed by NEOTECH and RTI, MoFi SuperVinyl is the most exacting-to-specification vinyl compound ever devised. Analog lovers have never seen (or heard) anything like it. Extraordinarily expensive and extremely painstaking to produce, the special proprietary compound addresses two specific areas of improvement: noise floor reduction and enhanced groove definition. The vinyl composition features a new carbonless dye (hold the disc up to the light and see) and produces the world's quietest surfaces. This high-definition formula also allows for the creation of cleaner grooves that are indistinguishable from the original lacquer. MoFi SuperVinyl provides the closest approximation of what the label's engineers hear in the mastering lab.
More About Mobile Fidelity UltraDisc One-Step and Why It Is Superior
Instead of utilizing the industry-standard three-step lacquer process, Mobile Fidelity Sound Lab's new UltraDisc One-Step (UD1S) uses only one step, bypassing two processes of generational loss. While three-step processing is designed for optimum yield and efficiency, UD1S is created for the ultimate in sound quality. Just as Mobile Fidelity pioneered the UHQR (Ultra High-Quality Record) with JVC in the 1980s, UD1S again represents another state-of-the-art advance in the record-manufacturing process. MFSL engineers begin with the original master tapes and meticulously cut a set of lacquers. These lacquers are used to create a very fragile, pristine UD1S stamper called a "convert." Delicate "converts" are then formed into the actual record stampers, producing a final product that literally and figuratively brings you closer to the music. By skipping the additional steps of pulling another positive and an additional negative, as done in the three-step process used in standard pressings, UD1S produces a final LP with the lowest noise floor possible today. The removal of the additional two steps of generational loss in the plating process reveals tremendous amounts of extra musical detail and dynamics, which are otherwise lost due to the standard copying process. The exclusive nature of these very limited pressings guarantees that every UD1S pressing serves as an immaculate replica of the lacquer sourced directly from the original master tape. Every conceivable aspect of vinyl production is optimized to produce the most perfect record album available today.
Track Listing
Side A
I Robot
I Wouldn't Want to Be Like You
Some Other Time
Breakdown
Don't Let It Show

Side B
The Voice
Nucleus
Day After Day (The Show Must Go On)
Total Eclipse
Genesis Ch. 1 V. 32
Music Vinyl LP's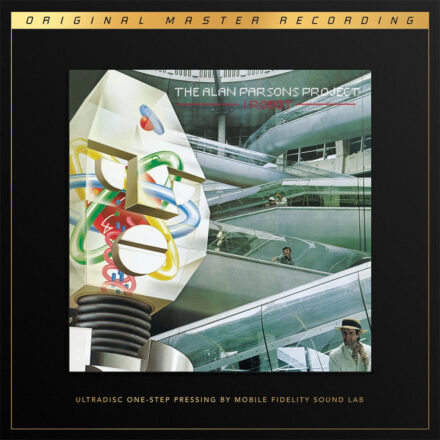 IN STOCK NOW!!
MASTERED FROM THE ORIGINAL MASTER TAPES: ULTRADISC ONE-STEP LP ELEVATES THE AUDIOPHILE STANDARD WHILE OFFERING ONE-FLIP CONVENIENCE Most audiophiles know Alan Parsons Project's
I Robot
by heart. Engineered by Parsons after he performed the same duties on Pink Floyd's
Dark Side of the Moon
, the 1977 record reigns as a disc whose taut bass, crisp highs, clean production, and seemingly limitless dynamic range are matched only by the sensational prog-rock fare helmed by the keyboardist. Not surprisingly, it's been issued myriad times. Can it be improved? Relish Mobile Fidelity's stupendous UltraDisc One-Step 180g 33RPM box set and the question becomes moot.