The song titles on Van Halen's aptly titled Fair Warning don't lie. The likes of "Unchained," "Mean Street," "Push Comes to Shove," "One Foot Out the Door," and more indicate the moods the band channels on its 1981 record, the nastiest, darkest, and fiercest album of the group's storied career. Guitarist Eddie Van Halen uses the forceful arrangements as a playground for his seemingly unlimited arsenal. Supported by a crack rhythm section and an inspired David Lee Roth, he performs with an almost impossible combination of punk-like intensity, technical finesse, lyrical fluidity, and unbridled emotion. For the fourth time in four years, Van Halen threw down the gauntlet to all challengers and emerged victorious. Mastered from the original analog tapes, Mobile Fidelity's numbered-edition hybrid SACD sounds the alarm with unfettered clarity, dynamics, and immediacy.
Track Listing
Mean Street
Dirty Movies
Sinners Swing!
Hear About It Later
Unchained
Push Comes to Shove
So This Is Love?
Sunday Afternoon in the Park
One Foot Out the Door
Music Vinyl LP's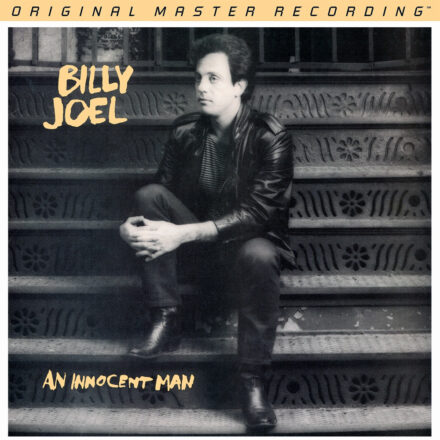 Infectious Doo-Wop, Carefree Soul, Harmonious Pop A Testament To Music Of Joel's Childhood
After making The Nylon Curtain, Billy Joel felt the need to exhale and get back to the carefree music of his childhood. He also met supermodel Christie Brinkley, who brought serious degrees of levity and romance to his world. In love, relaxed, and out to have fun, the singer crafted An Innocent Man, arguably the most easygoing and pleasing album of his career. Featuring four Top 40 pop singles and the same number of Top 5 Adult Contemporary hits to grace the Billboard charts, the record remains a commercial staple.