Less than six years after changing the music landscape with its self-titled debut, Van Halen repeated the enormous feat. Certified ten-times-platinum by RIAA, graced by three immensely popular singles, and adorned with iconic artwork, 1984 witnesses the band expanding the synthesizer elements introduced on several prior albums and seamlessly bridging its pop and metal sensibilities into a cohesive melodic whole. Punchy and catchy, glamorous and glitzy, blustery and heavy, wild and pyrotechnic, fast and fun, 1984 is David Lee Roth, Eddie Van Halen, Michael Anthony, and Alex Van Halen hitting on all cylinders. Do not wait to get this landmark on Mobile Fidelity numbered-edition hybrid SACD, mastered from the original analog master tapes for definitive sound.
Track Listing
1984
Jump
Panama
Top Jimmy
Drop Dead Legs
Hot for Teacher
I'll Wait
Girl Gone Bad
House of Pain
Music Vinyl LP's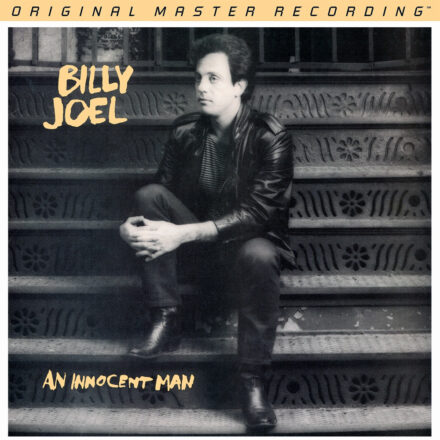 Infectious Doo-Wop, Carefree Soul, Harmonious Pop A Testament To Music Of Joel's Childhood
After making The Nylon Curtain, Billy Joel felt the need to exhale and get back to the carefree music of his childhood. He also met supermodel Christie Brinkley, who brought serious degrees of levity and romance to his world. In love, relaxed, and out to have fun, the singer crafted An Innocent Man, arguably the most easygoing and pleasing album of his career. Featuring four Top 40 pop singles and the same number of Top 5 Adult Contemporary hits to grace the Billboard charts, the record remains a commercial staple.