Air
When you place the included BLUE HFT on top of the UEF Record Clamp, you experience more air and detail with a cooler and in some recordings, a more dramatic holographic soundstage. This is perfect for listening to artists like Roger Waters or electronic music with dramatic phase effects.
Liquid
When you place the included RED HFT on top of the UEF Record Clamp you experience rich tonal warmth and greater liquidity with a smoother presentation. This is perfect for vocal recordings like Frank Sinatra and Diana Krall or anytime you want greater warmth and musicality.
Specifications
Dimensions – 7.37cm h x 8.12cm w x 8.12cm d
Weight – 952.5 Grams
Spindle hole depth = 3.5cm
Turntable Mats & Record Clamps
The HELOX reflex record clamp - creating an unique contact between record and platter surface. Providing a sonically outstanding step forward with ANY turntable. High contact pressure combined with the all-new concept of a liquid dampening clamp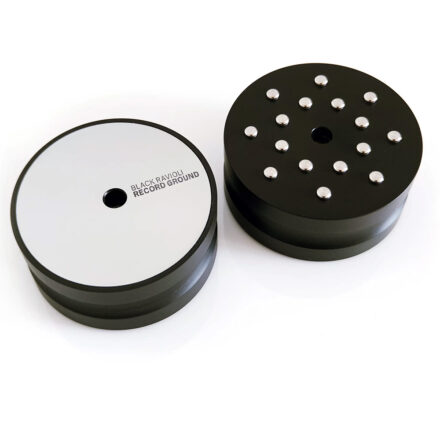 The Black Ravioli Record Ground dissipates the energy created by the stylus travelling through the record groove. Essentially grounding it, which results in improved sound quality.
Effective on most turntables including Linn LP12, Technics SL series, Garrards, and many more.