In order to hear the sound better portable players such as iPod, listening style that combines a portable headphone amplifier is widespread. Portable headphone amplifier for portable players such as rubber band tied to is common, it is difficult to manipulate and screen switches is closed by a rubber band, also missed appearance.
Sheet of self-adhesive, urethane sheet "Strong Pita Pottery" is smart and strong and Paste portable headphone amplifier and portable players. I do not need a rubber band, the operation can be performed comfortably players and amplifiers. Without compromising the aesthetics, I mastered the smart portable players. The peel and stick adhesive force is back I just wash dirty. Because it does not contain a thickening agent, oil-free, hard paste spotting, discoloration on the surface paste, I do not cause deterioration.
2mm thick x  40mm x 70mm size is pasted directly to iPhone and iPod Touch / Classic. You can also freely cut with scissors to the desired size. By the action of a powerful anti-vibration sheet "Strong capitalist Pottery" In addition, quickly absorbs vibration and impact adversely affect the sound quality can be improved the sound quality of portable playback. And anti-vibration effect by its excellent adhesion, "Strong sheet Pita Pottery" can also take advantage of the anti-vibration and anti-tip audio equipment.
Computer Audio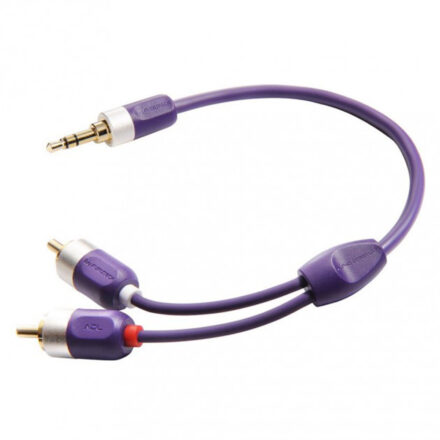 Furutech proposes here an adaptation of its technical know-how in terms of conductors and connectors in a cable dedicated to the nomadic HIFI. This interconnect cable is equipped with a 3.5mm metal jack specially designed for use on mobile drives with protective shell (ideal for Smartphones or portable amplifiers). This cable's male to RCA jack will allow you an easy connection to any HIFI system.
Legendary Japanese build quality
Audiophile sound quality
Upgrade your headphones with these superb cables