The Blue premium range of high quality UK 13A 3 pin plugs have been designed to be used with high quality audio equipment for optimum power transmission.
All the electrical parts (plug pins, fuse and all other internal conductive parts) are made from premium quality copper and electroplated with 3um x silver plating, gold plating or rhodium, the Fuse Clips are made of high spring rate Phosphor Bronze, again with 3.0µm x silver, gold or rhodium plating – and supplied with a 13A silver plated fuse, fitted.  All these conductive parts including the fuse undergo a deep cryogenic treatment in the UK specifically designed for audio components.  This cold annealing process seems to increase the material conductivity.
The heavy duty mains wire-clamps design ensure an air tight connection to ensure perfect power transmission and also protect the power cable wires from damage over time (inferior plugs secure the cables by the grub screws twisting down onto the cable directly and are prone to material 'creep'). The plug will accept wires up to 4mm diameter – and clamp a cable of up to 16mm overall diameter.
The plug casing is manufactured from blue colour semi-transparent nylon material, offering durability, high insulation and light weight.
Audio listening trials have been undertaken to assess the impact different materials and colours have on this plug design casing, re. audio performance.  It was found that black cases offer slightly less dynamics and clarity. The tests were all tried using a very high end audio system where the sound qualities could be readily heard in A/B comparisons.  There is no firm technical explaination for this, but it is suggested that the carbon powder used to manufacture black colour plastic is acting as a slightly capacitive or inductive element between the plug pins.  Using a blue dye in the plastic material had no detrimental effect v. clear plastic, and the blue semi-transparent finish was considered both attractive and translucent enough to partially hide the internal wire connections.
The patented plug design allows for easy cable fitting (instructions provided) and the ease of cable fitting cannot be under estimated – it makes this premium quality mains plug so easy to use.
Why silver plating? Silver has the lowest resistance of all plating materials and the oxidisation also has a very low resistance (far lower than oxidised copper), as well as being easily cleaned off if necessary. Quite rightly, silver is the choice for those wishing for the least resistance contacts between the plug pins and socket
FEATURES:
Compliance with: BS-1363 (plug), BS-1362 (fuse).
Laboratory certificated to BS1363-1 1995, through Intertec ETL Semko, certificate available as pdf, ask for copy if documentation required.
Mains voltage rating: 200~240 VAC x 13A
Size (Housing Only): Width 68mm, Depth 33mm, Height 68mm (inc. cable clamp)
Weight:100 grams
Display packing. Size packed: 70mm W x 60mm D x 105mm H, fitting instructions included
Mains Plugs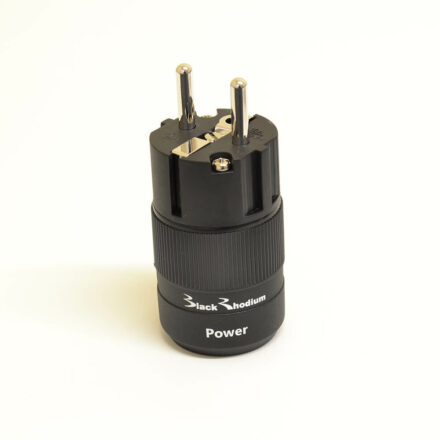 Rhodium plated copper pins, quality construction and able to accomodate thick gauge cables, the Black Rhodium Schuko plug is quality through and through.