MCRU have sold 1000's of mains plugs and connectors, we offer a range to suit all budgets. We now offer all our reference plugs which are the same plug but with different platings to suit your requirements. Below is a list kindly complied for us by a colleague many years ago called Mr Mennecke. Silver is the best conductor of electrons known to man but is way too soft a metal to be used in its purest from for a mains plug. We therefor have standard brass plugs (brass is an alloy of copper and zinc in itself still a good conductor) and have them plated with various metals by our preferred plater based in Birmingham who has been in business for over 50 years.
We offer our reference mains plug in standard brass form (all pins treated with Caig de-oxit to remove surface contaminants), silver plated, rhodium plated or gold plated. Our plater is based in the Birmingham jewellery quarter and is not an industrial plater, the finish of their work is exceptional.
The plugs accept cable up to 10.5mm outside diameter and up to 4mm sq conductors. If you wish to build your own power cord these cables fit perfectly.
Mains Plugs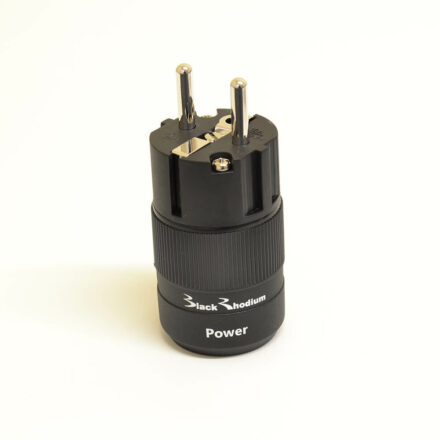 Rhodium plated copper pins, quality construction and able to accomodate thick gauge cables, the Black Rhodium Schuko plug is quality through and through.