At MCRU we pride ourselves on quality and service. We are now beginning our own range of audiophile plugs and connectors beginning with our own branded MCRU IEC connector. We saw no point in simply copying other designs so had our own specification manufactured in pure copper with a layer of 24kt gold for optimum performance guaranteed.
The IEC plugs have a rubber dust shroud on the back and accept a wide variety of cable thicknesses up to 6mm sq individual conductors. We have chosen copper and gold as we feel it offers the best all round performance of all the current range of connectors found elsewhere. Please read our white paper on this very subject called The Conductivity Of Metals in Hi-Fi.
For a matching top quaity UK mains plug we recommend either the MK toughplug, MS HD Power UK Plug or the Furutech FI-1363G. 
IEC & Fig.8 Connectors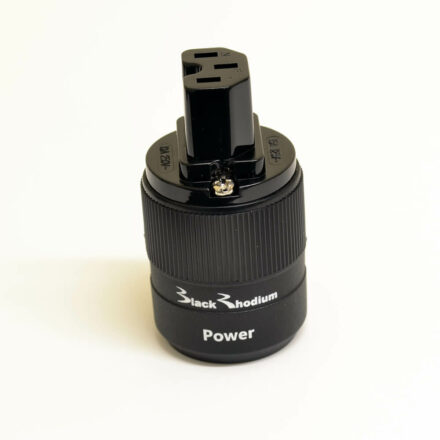 Brand new IEC connector from Black Rhodium. Featuring rhodium plated copper contact pins and large cable entry receptacles, quality engineering and robust construction.