After numerous requests MCRU have finally found a way to make a 90 degree Fig.8 power lead where there is limited space on the back of your TV or if the connecter needs to exit straight down when plugged into the TV.
This model is made using Black Rhodium Libra power cable as it is extremely flexible and well suited to tight installations.
The Black Rhodium Libra mains power lead is 1.2 metres long as standard, terminated with a quality audiophile grade plug and 90 degree Fig. 8 and utilizing tinned copper wires insulated with silicone to combat RFI/EMI.
Recently reviewed in Hi-Fi World magazine and described as a "game changing design", full money back if not delighted. Here is the review.
Cable manufactured in England
5A rating suitable for source equipment and low power amplifiers
3 core 16 x 0.2mm tinned copper conductors, insulated to UK colour code, twisted for superior noise rejection
Low impedance high cross section conductor wire for superior low frequency response and stereo imaging
Silicone rubber insulation for accurate portrayal of the leading edges and decays in music
Twisted internally along the length of the cable to prevent the loop "aerial" effect to prevent audible distortion to sound quality
Designed for low 'Transient Phase Distortion' by increasing the thickness of the inner insulation to 1.2mm
Available with UK, European Schuko and USA terminations
Mains Leads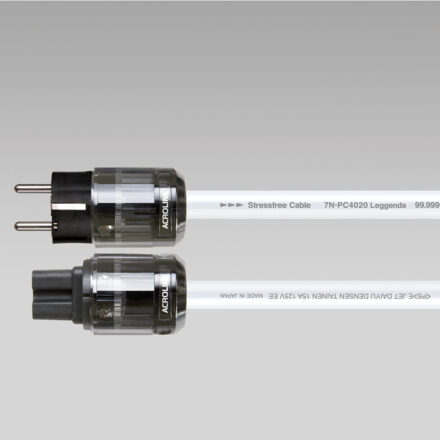 Acrolink 7N-PC4020 Legenda is a 3x14AWG power cable, made with 7N copper conductors for phase and neutral, 5N for ground. The terminals have metal elements silver-plated and perodized. 1.5m fitted with a Schuko plug