This ingenious device takes the place of your record mat and tighty clamps the vinyl to the mat using an air suction principal. It works!
Simply place the mat onto your platter (some VTA adjustment may be required). Place the record to be played on top then place the air suction cup over the turntables center spindle.
Press the on button and wait until the light changes colour then remove the suction cup.
The record is now tightly clamped over its entire surface to your platter.
Operational video here. 
More information and manual here.
Turntable Mats & Record Clamps
The HELOX reflex record clamp - creating an unique contact between record and platter surface. Providing a sonically outstanding step forward with ANY turntable. High contact pressure combined with the all-new concept of a liquid dampening clamp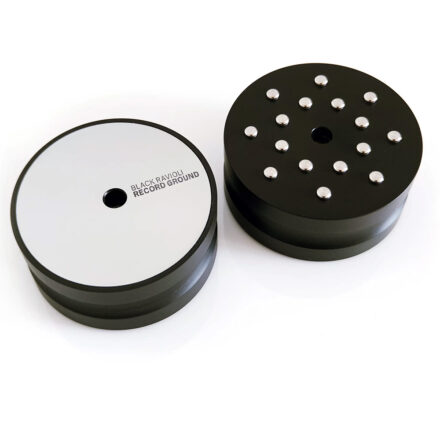 The Black Ravioli Record Ground dissipates the energy created by the stylus travelling through the record groove. Essentially grounding it, which results in improved sound quality.
Effective on most turntables including Linn LP12, Technics SL series, Garrards, and many more.