Analogue Productions (Atlantic 75 Series)
Celebrating the 75th Anniversary of Atlantic Records!
Selling England By The Pound — Genesis' gold-selling fifth studio album!
180-gram 45 RPM double LP
Mastered directly from the original master tape by Chris Bellman at Bernie Grundman Mastering
Pressed at Quality Record Pressings
Tip-on old style gatefold double pocket jackets with film lamination by Stoughton Printing
Recorded in August 1973 — the tour for Foxtrot (1972) having ended in May of that year — Genesis' members joined for a short time to write new material which covered a number of themes, including the loss of English folk culture and an increased American influence. Hence the inspiration for the title Selling England by the Pound.
Several tracks from the album became fan favorites and were featured as a regular part of the band's live setlist well into the 1980s. "I Know What I Like (In Your Wardrobe)," was released in February 1974 and became the band's first top 30 hit in the U.K. In 2012, the album ranked seventh in Rolling Stone's "Readers' Poll: Your Favorite Prog Rock Albums of All Time." Selling England by the Pound reached No. 3 on the U.K. charts and No. 70 on the U.S. Billboard Pop Albums chart.
AllMusic reviewer Stephen Thomas Erlewine wrote that Genesis hadn't sacrificed its newfound immediacy of Foxtrot with that album's follow-up. They found ways to infuse with the delicate whimsy that was their calling card since the group began.
"This, combined with many overt literary allusions — the Tolkeinisms of the title of 'The Battle of Epping Forest' only being the most apparent — gives this album a storybook quality. It plays as a collection of short stories, fables, and fairy tales, and it is also a rock record, which naturally makes it quite extraordinary as a collection, but also as a set of individual songs. Genesis has never been as direct as they've been on the fanciful yet hook-driven 'I Know What I Like (In Your Wardrobe)' — apart from the fluttering flutes in the fade-out, it could easily be mistaken for a glam single — or as achingly fragile as on 'More Fool Me,' sung by Phil Collins. It's this delicate balance and how the album showcases the band's narrative force on a small scale as well as large that makes this their arguable high-water mark."
All the hallmarks of a top-notch Analogue Productions reissue are here for you to savor: Mastered directly from the original master tape by Bernie Grundman and cut at 45 RPM. Pressed on 180-gram vinyl at Quality Record Pressings, and housed in tip-on old style gatefold double pocket jackets with film lamination by Stoughton Printing.
Track Listing
1. Dancing With The Moonlit Knight
2. I Know What I Like (In Your Wardrobe)
3. Firth Of Fifth
4. More Fool Me
5. The Battle Of Epping Forest
6. After The Ordeal
7. The Cinema Show
8. Aisle Of Plenty
Music Vinyl LP's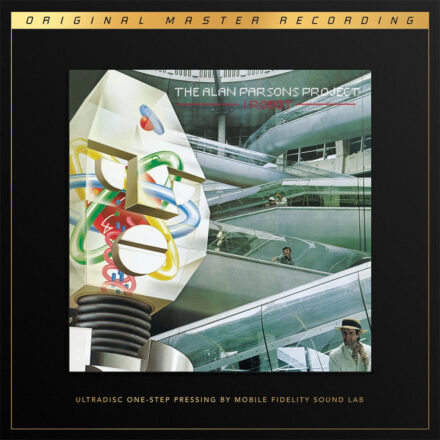 IN STOCK NOW!!
MASTERED FROM THE ORIGINAL MASTER TAPES: ULTRADISC ONE-STEP LP ELEVATES THE AUDIOPHILE STANDARD WHILE OFFERING ONE-FLIP CONVENIENCE Most audiophiles know Alan Parsons Project's
I Robot
by heart. Engineered by Parsons after he performed the same duties on Pink Floyd's
Dark Side of the Moon
, the 1977 record reigns as a disc whose taut bass, crisp highs, clean production, and seemingly limitless dynamic range are matched only by the sensational prog-rock fare helmed by the keyboardist. Not surprisingly, it's been issued myriad times. Can it be improved? Relish Mobile Fidelity's stupendous UltraDisc One-Step 180g 33RPM box set and the question becomes moot.