Improving on the original Gearbox Automatic design, the MkII model features an upgraded belt drive with aluminium pulley to ensure better speed stability. The electronics have also been uprated for better all-round performance, while the Gearbox Automatic app is now slicker and easier to use than ever.
The Gearbox Automatic has created quite a buzz in the audio world, a plug & play turntable that plugs a gap in the portable turntable sector. It features high-quality components, meaning the sound is astonishing for its price class. This you would expect from Gearbox of course, but it also does things no other turntable has ever done before.
What also sets this turntable apart is the high-fidelity built-in valve phono stage, (the first in the world to have one), which has been designed and tuned for moving magnet cartridges such as the pre-fitted Ortofon OM10. This means that you can plug the turntable straight into any line input and enjoy the warm and open acoustics, right from the box.
The Gearbox Automatic is not just a premium sounding, elegantly simple future design classic. No, this beautiful beast also has on-board music recognition technology that allows you to add tracks from your record collection to your Spotify playlist with the swipe of a finger, connecting analogue with the future.
Other features include
Built in Europe by Pro-ject
Pro-ject tonearm
OM 10 Ortofon moving magnet cartridge
Bluetooth onboard
33rpm and 45 rpm
Built in vacuum tube (valve) phono stage
RCA plugs for wired output
Isolated power on control
Glass platter
Internet enabled for track tagging and addition to streaming platforms
Turntables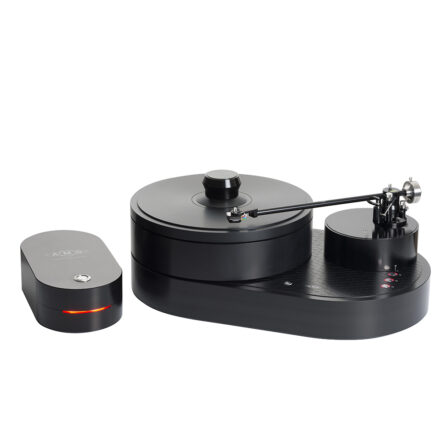 "As with the original Viella, the V12, the AMG Viella Forte, with or without the 12JT tonearm, is among the best values in high-performance, "top shelf" turntables. It competes well in terms of sonic performance and build quality with similar products, including some priced far higher." – Michael Fremer, Stereophile Magazine
Price includes 12J2T Tone Arm
Analog Manufaktur Germany's Viella Forte turntable, introduced in 2019, is the "super" version of our Viella turntable. The AMG design team focused on mass, rigidity, and refinement to create the Forte, resulting in increased macro-dynamics, more inner detail, larger-scaled presentation, and greater effortlessness.