Furutech is justifiably proud of its reputation for engineering, build-quality and performance, and have won the loyal support of audio enthusiasts worldwide for their finely made and beautiful sounding cables and audio accessories.
Furutech performance is legendary in the hi-fi industry, and they continue to bring exceptional products to the market that are carefully engineered to guarantee the best sound per pound.
Using Furutech's patented alpha cryogenic process and demagnetising of all contact pins, this connector is an excellent product because of the company's attention to engineering and manufacturing detail. This plug will accept quite thick gauge cables and is easy to install.
Features and specifications:-
Pure copper α (Alpha) Conductor.
Earth (Ground) Jumper System.
Nylon and fibre-glass housing.
Polycarbonate shell.
Specified for cable diameters of 6.6mm to 16mm.
Dimensions: Body length 48.2mm x 38mm diameter x 74mm overall length.
Rated: 15A/125V.
PSE JET:15PJET090.
USL /CNL Listed:04CA26110.
Type: 2-pole+earth.
The Furutech website lists all the variations available, we stock most of them.
Also available gold-plated, silver-plated, or rhodium-plated.
Please don't hesitate to contact us to discuss your requirements.
Mains Plugs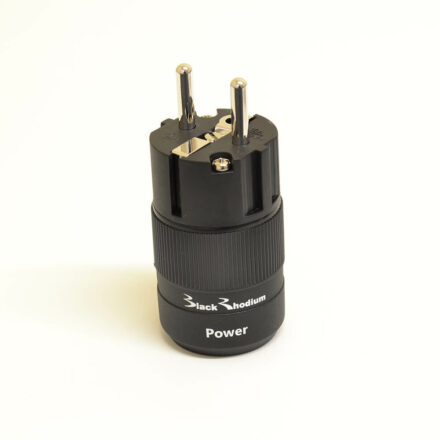 Rhodium plated copper pins, quality construction and able to accomodate thick gauge cables, the Black Rhodium Schuko plug is quality through and through.