ETI Research Kryo RCA Connectors utilise the same design as the Brio range of RCA connectors, but with Silver Plating instead of Rhodium. A Tellurium Copper and Silver combination is a hallmark of the entire Kryo line, as is of course a stringent cryogenic treatment process to ensure absolute quality and material strength over time.
ETI Research employs the Silver Plating process as Silver's electrical resistance is lower than Copper; more so at higher frequencies due to the skin effect. And of course, when properly implemented, it's difficult to find a superior method for audio throughput than Silver Plating of Tellurium Copper.
CONDUCTOR: SILVER PLATED 1100 SERIES COPPER SIGNAL PIN WITH TELLURIUM COPPER RETURN

HOUSING: BRASS (BLACK FINISH)

The ETI Research Kryo RCA Connector's innovations and refinements include:
Major components made from Tellurium Copper with Silver Plating for superior conductivity and long-lasting durability.
Housings made from Brass for superior vibration damping and high EMI/RF noise rejection.
RCA / XLR Connectors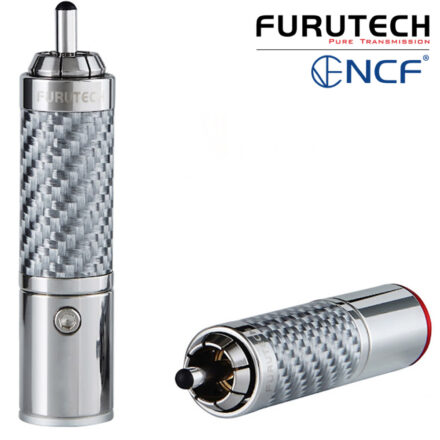 Sold in Pairs
Furutech introduces the CF-102 NCF top-of-the-line RCA connector. This is the first Furutech high performance "signal" connector to feature Nano Crystal² Formula (NCF). This material is the cumulative result of Furutech's 30 plus year effort to eliminate electrical and mechanical resonance from signal and power transmission in high performance audio and video applications. Offering a dramatic reduction in noise, improved imaging, and focus, and improved sound staging, the CF-102 NCF will take your listening enjoyment to the next level.