The original Collaro mat found fame with the Linn LP12 turntable with 100's sold it provides an instant sonic up-grade.
Collaro Audio now present the Collaro Pro200 record mat specifically developed for Technics Turntables.
If replacing a thick rubber or felt mat, the stylus VTA (Vertical Tracking Angle) may need adjustment.
The mat may be used either side uppermost with identical results.
Each mat comes packaged in a presentation protective sleeve and makes an ideal gift for any vinyl hi-fi enthusiast.
For best results partner with a non ferrous record clamp such as the new Collaro model.
Turntable Mats & Record Clamps
The HELOX reflex record clamp - creating an unique contact between record and platter surface. Providing a sonically outstanding step forward with ANY turntable. High contact pressure combined with the all-new concept of a liquid dampening clamp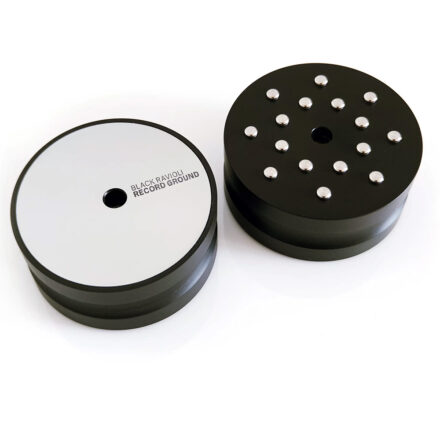 The Black Ravioli Record Ground dissipates the energy created by the stylus travelling through the record groove. Essentially grounding it, which results in improved sound quality.
Effective on most turntables including Linn LP12, Technics SL series, Garrards, and many more.