Designed as a direct replacement for the supplied platter mat of many high quality turntables, this mat is the result of many years of research and is a felt and cloth sandwich construction of uniform thickness.
It provides a precise support of the record on the platter whilst protecting the groove from damage that can be sustained using a hard surface such as glass or metal.
If replacing a thick rubber or felt mat, the stylus VTA (Vertical Tracking Angle) may need adjustment. If used with a Linn turntable, the process of 'clocking' the platter may be beneficial.
The mat may be used either side uppermost with identical results.
Each mat comes packaged in a presentation protective sleeve and makes an ideal gift for any vinyl hi-fi enthusiast.
You can be sure that the mat will provide years of enhanced listening pleasure for anyone with a Linn, Rega, Pink Triangle, Funk Firm, Pro-Ject, Clearaudio or Roksan turntable. Or, if you or someone you know owns a classic turntable, perhaps manufactured by Ariston, Walker, Manticore, Systemdek, Lenco, Luxman, Micro or Garrard, then the Collaro Audio Precision Turntable Mat will also provide an enhanced acoustic experience.
Turntable Mats & Record Clamps
The HELOX reflex record clamp - creating an unique contact between record and platter surface. Providing a sonically outstanding step forward with ANY turntable. High contact pressure combined with the all-new concept of a liquid dampening clamp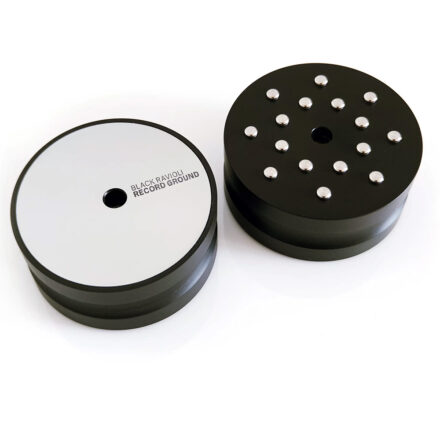 The Black Ravioli Record Ground dissipates the energy created by the stylus travelling through the record groove. Essentially grounding it, which results in improved sound quality.
Effective on most turntables including Linn LP12, Technics SL series, Garrards, and many more.