This audiophile disc was used as a reference by Michael Fremer of Analog Planet in testing various record mats. The album contains selections from composers and musicians that include Vivaldi, Mozart, Ellington, Rachmaninoff, Verdi, and more!
"…the whole album is very impressive, with the combination of old and new technologies proving particularly effective at revealing timbre and reverberation, not to mention dynamics. I'm not generally a fan of audiophile recordings, but this one is so impressive that I have to make an exception." – Jason Kennedy, Hi-Fi Choice Magazine, rated 5 stars
"Throughout, Valentine's obvious goal was to produce maximum natural spaciousness while preserving instrumental timbres as well as instrumental focus. The results are uniformly engaging, three-dimensional and natural…" – Michael Fremer, analogplanet.com
About the Music:
Side One:
1. Chamber Orchestra: Vivaldi's Concerto for 2 Mandolins
In the early 1950's Decca engineers were experimenting with stereo recording techniques. Using 3 omni directional Neumann M50 microphones, their system became know as the "Decca Tree". The same "Decca Tree" has been used here to capture Vivaldi's wonderful composition. This approach also re-creates the warmth of the monastery were it was recorded in Venice.
2. Cello Interior: Bach's Cello Suite No. 1
Interior: In an English church, 3 M50's were set up to record cellist Justin Pearson performing Bach's Prelude. Between the mic, a Jecklin Disc was placed. This increased the separation of the spaced pair. The acoustics of the church are wonderful!
3. Cello Exterior: Bach's Cello Suite No. 1
The same microphones, performer, cello and the same piece of music… but this time recorded outside in the graveyard! How important are acoustics? What would it sound like to be able to remove the church from the last recording? Compare the tracks to hear for yourself the results of this interesting experiment! Which do you prefer?
4. Brass Ensemble: Mouret's Rondeau
Mouret's Rondeau is performed here by 5 musicians which were spread uniformly across the stage. From left to right are a trumpet, french horn, bass trombone, trombone and cornet. In a recording studio each musician would probably have had their own microphone. Here the ensemble were captured in a real acoustic space using the "Decca Tree".
5. Piano: Davidson's Improvisation
A piano has a very wide frequency response and here the recording has been closely miked it to bring out its detail and definition. The tracks begins with the opening chord being plucked by the pianist, Bruce Davidson.
6. Jazz Group: Ellington's Caravan finale
One U47 in front of the trumpet and one for the electric bass. Two M50's over the drums and another for the piano. Perhaps a little like "Jazz At The Pawnshop"? Recorded live in a jazz club in Turkey.
7. Orchestra: Verdi's Force of Destiny finale
The acoustics of any concert hall are obviously very important. The space used here uses a great sounding combination of wood and stone. A great performance by the Ljubljana International Orchestra.
Side Two:
1. Orchestra: Badelt's Pirates Of The Caribbean
Recorded in St. Johns Smith Square, London. A "Spaced Pair" of U47s were used as the main microphones to capture this exciting piece, performed by the Young Musicians Symphony Orchestra.
2. Soprano: Mozart's Durch Zartlicheit & Schmeicheln
Rising star Daisy Brown, was recorded with a "Spaced Pair" of U47s set to omni directional. The natural acoustics really complement Daisy's beautiful voice.
3. Saxophone: Graham's Improvisation
Written and performed by saxophonist David Graham. No artificial reverberation has been added to the recording.
4. Chamber Orchestra: Sarasate's Tarantella
the "Decca Tree" has been used to record Sarasate's ravishing Tarantella. To reduce reflections form the windows in this venetian monastery, 6 mattresses have been added. Mush to the amusement of the musicians! The "Decca Tree" is wonderful at capturing the should of the music and just as importantly, the acoustic space.
5. Harp: Falla's Spanish Dance No. 1
Fall's lyrical music is played here by the young harpist Valeria Kurbatova. The track was recorded with a half inch Studer, running at 30 inches per second. 50 year old mikes with a 25 year old recorder!
6. Piano: Rachmaninoff's Piano Concerto No. 2 finale
Rachmininoff's ubiquitous piano concerto is performed by the YMSO and the pianist Konstantinos Destounis, who is only 22 years old! A great finale to the album!
"In creating this album I have combined 50 year old Neumann valve microphones with a high resolution Nagra digital recorder. The tracks were mastered at Air Studios in London by my cutting engineer John Webber. The final icing on the cake was to use state of the art cables from ZenSati, who supplied all of the cables used in the entire recording chain. I really hope you enjoy this LP." – Mike Valentine, producer/engineer
Music Vinyl LP's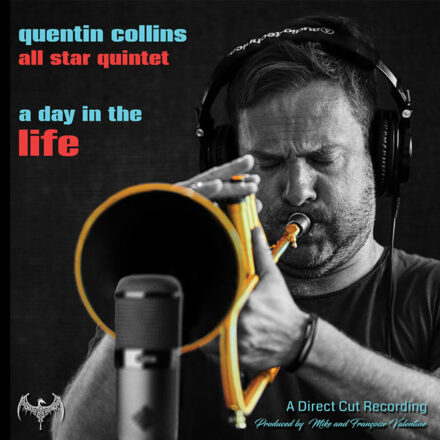 Part Of The Direct Cut Recording Series On 180g Vinyl LP! "Quentin Collins is a leading figure on the British jazz scene, comfortable with many styles but most often adopting the post-bop language of players like Lee Morgan and Freddie Hubbard. Collins performs with a wide range of musicians and appears regularly at London's most prestigious jazz venues, including Ronnie Scott's and Club 606. The artist plays carbon fiber daCarbo instruments, said to optimize vibration so less energy is wasted in the air column within the horn. " Absolute Sound