Mains Cables R Us have developed an external audio grade power supply for the Cambridge Audio DACmagic D/A converter. Available in silver or black the power supply is made in the UK and is not a mass produced chinese box of tricks. The casing has an IEC inlet on the rear to accpet a mains lead (one is provided) and a captive DC lead to connect to your DAC.
The design will filter out any mains noise and provide your DAC with a clean supply thus improving performance, proven by existing customer feedback. The dacmagic is powered by 12V AC so does not require a regulated linear PSU, just a good filtering system and a steady voltage stream.
Our power supply's have been awarded 5 stars by Hi-Fi Choice in a recent review (squeezebox touch linear psu).
Customer Review below..
Hi David,
I have spent the last 2 weeks listening to the new Dac Magic power supply and I have to say it is brilliant. More detailed, greater space, sweeter at the frequency extremes and a pleasure to listen to. Nicely put together as well and one of the most cost-effective upgrades I have made.
Top notch service too – thanks very much.
Dac Power Supplies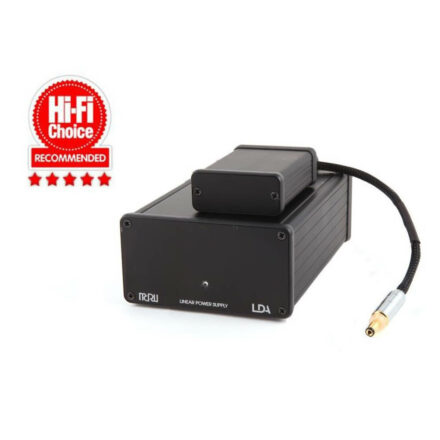 Available Models
OPTION ONE – Standard Model – Basic mains lead £295.00
OPTION TWO Kimber DC Kable, Furutech Gold plated IEC inlet, AMR Gold plated fuse, Supra Lorad mains lead to suit your country  £450.00
OPTION THREE Pure Silver DC Cable, Furutech Rhodium plated IEC inlet, SR Orange fuse, Isol-8 Wave mains lead to suit your country £650.00
OPTION Four Pure Silver DC Cable, Furutech Rhodium plated IEC inlet, SR Orange fuse, MCRU No. 75 SE mains lead to suit your country, MCRU isolation support stand £750.00