On the surface, Bob Dylan's Pat Garrett & Billy the Kid serves as a potent soundtrack to Sam Peckinpah's western of the same name. Dating from 1973, the Grammy-nominated set continued a rustic current Dylan explored on prior efforts such as Nashville Skyline and John Wesley Harding. It also demonstrated the singer could successfully lend his talents to a film and produce music that not only illuminated the mood, personalities, and actions on screen but exist and thrive independent of them. Yet Pat Garrett & Billy the Kid is much more, and most importantly, finally receives its just sonic due more than four decades after its initial release.
Indeed, Pat Garrett & Billy the Kid remains both distinctive and intriguing for the cast Dylan assembled for its creation – and their collective performances. Echoing Ry Cooder's adventurous, epoch-defying journeys that would soon follow, the 10-track album effortlessly breathes with country, folk, blues, and old-time pop flavors. A-list collaborators, including drummer Jim Keltner, fiddler Byron Berline, and Byrd legend Roger McGuinn, assist Dylan in making instrumental portraits such as the pensive "Catalina Theme (Working for the Law") and the spry "Turkey Chase" teem with detail, character, and a definite sense of place. Heard anew on Mobile Fidelity's exquisite remaster on SACD, they take on deeper meaning and convey elevated levels of enjoyment.
Of course, we should mention the other main reason why Pat Garrett & Billy the Kid remains one of Dylan's most famous works: "Knockin' on Heaven's Door." Transcending the mere status of song, the Bard's simple albeit poignant tune was ostensibly about Sheriff Colin Baker's death in Peckinpah's film yet has gone on to become nothing short of an anthem – a symbolic hymn whose expressiveness encompasses resilience, sorrow, forgiveness, readiness, and more. Covered by dozens of artists and, most famously, by Guns N' Roses, who turned it into a live staple recognized by new generations of fans, the classic is here in its original form, never sounding more significant than it does now.
Dylan's series of three "Billy" numbers, the record's other vocal tracks, also hold up to any other fare in the vocalist's rich catalog. There's not a misstep here or vacant feeling on this expertly executed album, which, for Dylanologists and historians, also represented the icon's first original material in three years – and a prelude to his reunion with the Band and, ultimately, 1975's bracing Blood on the Tracks. In every regard, Pat Garrett & Billy the Kid reigns as a towering statement.
Track List
Main Title Theme (Billy)
Cantina Theme (Workin' for the Law)
Billy 1
Bunkhouse Theme
River Theme
Turkey Chase
Knockin' on Heaven's Door
Final Theme
Billy 4
Billy 7
Music SACD's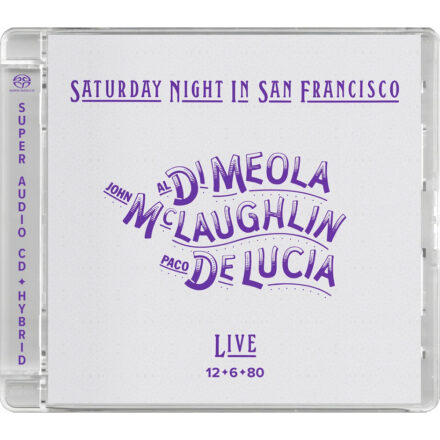 Audiophile SACD Never before released!!!
Assembled from the original 16-track analog live session tapes by Al Di Meola with engineers Katsu Naito & Roy Hendrickson Mastered from analog tapes by Bernie Grundman at Bernie Grundman Mastering Pressed at Record Technology Inc. Deluxe new packaging with never-before-seen photos Exclusive essay by Charles L. Granata feat. new interviews with Al Di Meola & original recording engineer Tim Pinch Long-Awaited Follow Up To Friday Night In San Francisco! From Original 16-Track Analog Live Session Tapes by Al Di Meola, Katsu Naito & Roy Hendrickson! Mastered From Analog Tapes by Bernie Grundman! Pressed at RTI!