The Gullwing SLR (S Class, L for low output [.35mV at 3.54cm/sec], and R for Ruby). The Gullwing is our homage to the Benz Micro Glider symbol and the classic Mercedes Benz 300SL.
At first glance, it resembles the famous Glider, but the new Gullwing is derived from the highly regarded Benz Ruby and the new LP S. The Gullwing is the only Benz cartridge other then the LP S with a frame machined from solid brass. The Gullwing frame is Rhodium plated for enhanced electrical characteristics and as further homage to the silver 300SL. The generator uses the square Ruby plate and oversized neodymium magnet similar to the Benz LP and Ruby. The SLR low output is best used with phono stages offering greater than 60dB gain, loaded at 400 ohms or higher.
The Gullwing open air design is based on the Benz Glider, but is almost twice the weight due to the much heavier brass material and the very large Neodymium magnet. This is the most powerful magnet used in any moving coil design and can only be used with the non-ferrous Ruby square plate generator as an iron coil cartridge would be overloaded by the intense magnetic field. The Rhodium plated brass frame and mega-magnet gives the Gullwing a 12.2 grams weight vs. 6.8 grams for the Glider. When designed in 1993, the Glider's weight was based on use for a very wide range of tonearms, one of the many reasons for its incredible success. The Gullwing is designed for today's best tonearms, those with advanced energy control (sophisticated bearings and damping) and that can handle a high mass cartridge. The Gullwing uses the new MicroRidge stylus, now found on all Benz Swiss-made cartridges.
Specifications:
| | |
| --- | --- |
| Output Voltage 3.54 Cm/sec | .35mV (L), .7mV (H) |
| Stylus Shape | Micro Ridge |
| Internal Ohms | 38 |
| Loading Range | >400 |
| Weight | 12.2 grams |
| Compliance | 15 |
| Tracking | 1.8 – 2 |
| Warranty | 2 years |
Cartridges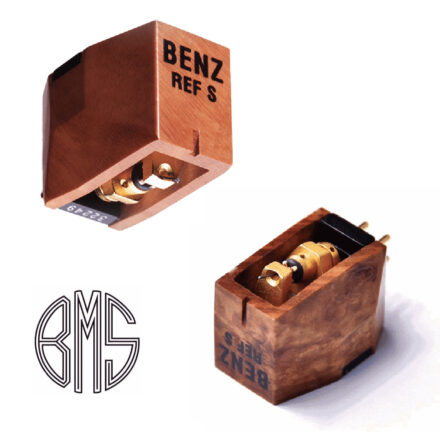 The Benz Micro S Class furthers the performance, selection and value of the Benz Micro line.
The continued evolution of the Benz Micro cartridge line and the culmination of years of research and manufacturing refinements, the S Class incorporates new materials, advancements in moving coil and suspension design, and upgraded styli on the Benz Swiss hand-made moving coils