For the last 20+ years, Belden 19364 has been the number one cable choice for audiophiles wishing to construct their own mains leads. It was discovered by Bob Crump of TG Audio Labs in the 1980s, and has since been extensively used to produce high-quality hi-fi and home cinema cables.
The cable is constructed from 3 x 2.08mm (14 AWG) oxygen-free copper conductors and incorporates the patented Beldfoil® Shield (which is in constant contact with the internal drain wire). This forms a ground loop to trap unwanted mains interference and keep it safely at the plug end of the cable, away from interaction with any equipment. Our top selling and most popular cable by far, due to its superb value to price ratio.
More information about Belden can be found here.
This listing is for a continuous 5 metre length, order qty 1 get 1 x 5 metre long length of cable, order qty 2 get a 10 metre long continuous length of cable.
Cable off the Reel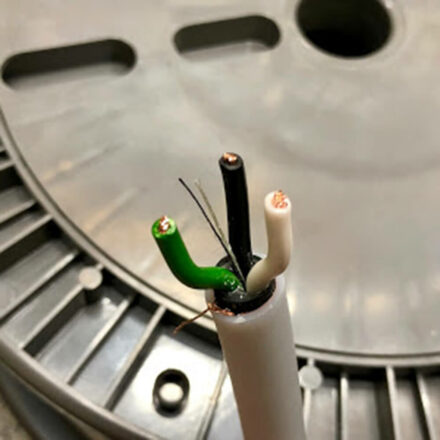 7N DUCC COPPER
FOIL SHIELDED
SOLD PER METRE
DATA SHEET HERE
Japanese craftsmanship comes to cables!
Acrolink 7N purity mains cable per metre off the reel for DIY power leads.
Stressfree 99.99999% Purity Copper
NEW DESIGN spec. sheet here