Mastered from the original master tapes, this numbered hybrid SACD of Eye in the Sky features succulent warmth, magnificent balance, low-end heft, and see-through transparency that takes you into the studio with Parsons and creative partner Eric Woolfson at Abbey Road. Akin to Mobile Fidelity's meticulous restoration of Parsons and company's I Robot, this super-clean edition will test the full-range capabilities of the world's finest stereo systems. In sum, there's more information, more detail, more texture, more nuance – more of everything to be experienced.
Boasting front-to-back depth, concert-hall-level separation, realistic presence, and bang-on accuracy, Mobile Fidelity's SACD of Eye in the Sky illustrates the lasting importance of perfectionist-minded engineering and recording techniques. Few works possess such a mesmerizing blend of reference-setting sonics and commercial acumen, facets that helped earn the set a Grammy nomination for Best Engineered Album – and, more than 35 years after its release, a Grammy for Best Immersive Audio Album for its surround format. Parsons' track record – he sat behind the boards for the Beatles' Abbey Road and Pink Floyd's Dark Side of the Moon – speaks for itself. As do the performances throughout Eye in the Sky, which contains not a single dull moment.
Moving the overarching conceptual themes present on the group's other signature efforts to the background, Eye in the Sky uses a string of seamless melodies, hooks, and mood to draw and hold listeners' attention. It survives as Parsons' pop triumph, full of exquisite songwriting, dreamy emotions, and soft edges that parallel an underlying orchestral scope and prog-derived drama. For example, the string- and brass-laden "Silence and I" alone qualifies as a rhapsodic symphony. Credit for the music's craft, cohesiveness, and accessibility also falls to Parsons and Woolfson's knack for recruiting session pros that translate their visions with unquestioned emotion – particularly, the assembly of star vocalists that include Elmer Gantry ("Psychobabble"), former Zombie frontman Colin Blunstone ("Old and Wise"), and soul singer Lenny Zakatek ("You're Gonna Get Your Fingers Burned" and "Step by Step").
As with all Parsons releases, the arrangements proverbially dot every "i" and cross every "t." Each note seems perfectly placed, every sequence painstakingly considered. Not to mention the narratives to the surveillance-obsessed title track and pulsing "Psychobabble" carry more weight in the 21st century than they did in the early stages of the Reagan/Thatcher era. And, just as it begins, with an appropriate flourish announcing the catchiness that follows, the platinum-selling Eye on the Sky finishes with fitting sentimentality in the form of a spiraling, saxophone-led ballad ("Old and Wise") that could easily fit on Pink Floyd's Wish You Were Here.
Track Listing
Sirius
Eye in the Sky
Children of the Moon
Gemini
Silence and I
You're Gonna Get Your Fingers Burned
Psychobabble
Mammagamma
Step by Step
Old and Wise
Music SACD's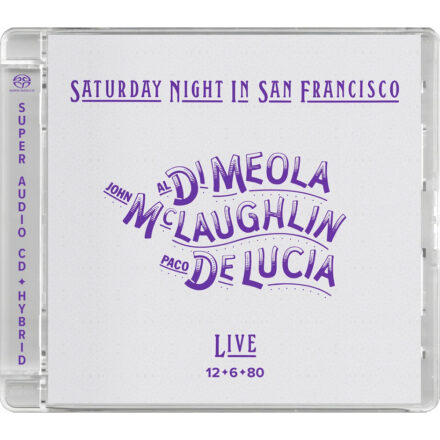 Audiophile SACD Never before released!!!
Assembled from the original 16-track analog live session tapes by Al Di Meola with engineers Katsu Naito & Roy Hendrickson Mastered from analog tapes by Bernie Grundman at Bernie Grundman Mastering Pressed at Record Technology Inc. Deluxe new packaging with never-before-seen photos Exclusive essay by Charles L. Granata feat. new interviews with Al Di Meola & original recording engineer Tim Pinch Long-Awaited Follow Up To Friday Night In San Francisco! From Original 16-Track Analog Live Session Tapes by Al Di Meola, Katsu Naito & Roy Hendrickson! Mastered From Analog Tapes by Bernie Grundman! Pressed at RTI!