It's great to be able to listen to all of your favourite music from your phone or portable digital music player wherever you go, but when you are used to listening to music of the highest possible sound quality at home, what comes through your headphones when you are out and about can leave a lot to be desired. In steps the iFi Audio xDSD portable DAC and headphone amplifier.
Compact and complete with its dark titanium vacuum ion plated metal enclosure, the xDSD is perfectly designed for taking with you wherever you go, delivering your music at the highest possible quality that you have come to expect. With an impressive battery life of up to 10 hours playback, you are guaranteed a great listening experience even when you know it's going to be a long day away from home.
CD-quality Bluetooth connectivity
Whilst practically pocket sized, iFi Audio's xDSD provides CD-quality sound straight to your headphones when connecting to your device via Bluetooth. Stream music from your preferred service including:
Spotify
iTunes
Tidal
Apple music
As a portable DAC and headphone amp, xDSD features iFi's Cyberdrive circuit design to put analogue sound quality under digital control. Using the new iFi Cyberdrive to enhance the sound quality and definition of instruments and vocals to a new level, streaming music on the go will never have sounded so good as with the xDSD. However, if you are looking for sound quality that is a notch higher still, the xDSD also provides the option to stream MQA audio tracks to hear Hi-Res music just as it was originally intended.
Further technology used includes X-Bass+, which helps to create a clean, rich and deep bass line definition, and 3D+ which aims to recreate a real live stage sound (and delivers).
Two listening modes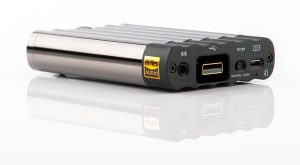 Whilst designed to go everywhere you go, the xDSD has two modes: speaker mode and headphone mode. This means that you can just as easily listen at home as you can on the go. The 3D+ function provides two separate circuits – one for loudspeakers (speaker mode) and another optimised for headphones, driving all varieties of headphones and in-ear monitors with different resistances. Both modes provide fantastic musicality and a real natural quality of sound.
If you are tired of disappointing sound quality when you are listening to music on your commute or away from home, we highly recommend that you take a closer look at iFi Audio xDSD, awarded the EISA Award for best product 2018-2019. Click here for more product information and specifications.