Accompanied at Ronnie Scott's by the house band of pianist Stan Tracey, double bassist Rick Laird and drummer Bill Eyden, most of the repertoire played comes from Lateef's earlier recordings for Savoy and Prestige such as Jazz Moods and Eastern Sounds. Lateef plays flute on The Dreamer and Last Night Blues (it was the last night of the run). He plays the shenai – a kind of oboe – on Blues for The Orient, the xun – a Chinese flute – on Song of Delilah, and tenor saxophone on Yusef's Mood.
The evening's performance was recorded by Les Tomkins at the request of Ronnie Scott. The musicians were unaware they were being recorded as Scott believed they would be at their best and most unselfconscious this way. This record was mastered at Gearbox Records directly from the original 1/4" tapes.
Cut on Haeco Scully lathe with Westrex RA1700 series amps, Westrex 3DIIA cutting head and Telefunken U73B tube limiter; Maselec master control and equalisation.
Tracklisting:
Side One: 1.Angel Eyes (9:19), 2.Blues For The Orient (6:51), 3.Song Of Delilah (4:41)
Side Two: 1.Last Night Blues (9:56), 2.Yusef's Mood (10:44)
Personnel:
Yusef Lateef – flute, shenai, xun, tenor saxophone
Stan Tracey – piano
Rick Laird – double bass
Bill Eyden – drums
Music Vinyl LP's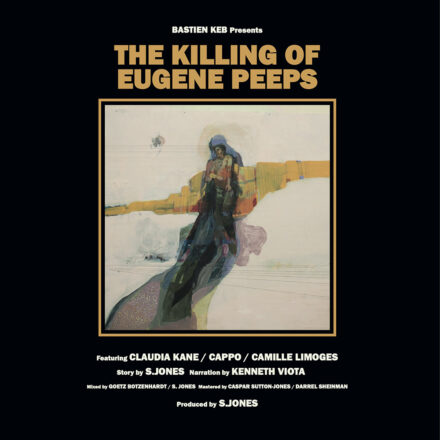 The Killing of Eugene Peeps 180gm 33rpm LP Release date: 9th October, 2020 A soundtrack to an imagined film... Bastien Keb presents his third album, 'The Killing of Eugene Peeps', an ode to Giallo, 70s crime flicks, and French new wave cinema. Befit with downbeat anti-ballads, psychedelic folk, and warped soliloquies, the music is an imagined score to a film that exists only in the mind. Sequenced like a film narrative, songs like 'Lucky (The Oldest Grave)', 'Rabbit Hole', 'Alligator' and mid-album rap tangent 'Paprika' call to mind key, set-piece moments. Evocative instrumental passages shift and link moods and themes between them; from brief minimal-jazz meanders ('Murmurs'), psychedelic funk ('Street Clams') to ethereal romanticism ('All That Love In Your Heart').