The Xhadow Precision XLR is easily the finest XLR in the world.
The Xhadow Precision XLR has been designed with respect for the audiophile perspective: Precision, purity, simplicity and elegance.
Regarding the manufacture – the main barrel and rear-nut are machined from pure aluminum rod-stock and hard anodized in "Xhadow Gray" for a durable and non-conductive finish. This assembly houses an internal strain relief machined from brass. For OEM users, the rear nut can be vanity-printed with corporate or model names (or both) where brand and/or identity markings are required (minimum order quantities apply).
Into this barrel assembly fits the male plug part:
An outer passive shell machined from brass and mirror chrome plated, holds a machined Teflon dielectric, in which the silver plated pure OFC copper machined contacts are held. Each contact allows the termination of the wire to be an air tight joint via set-screw or a solder joint, or both; giving the cable designer and manufacturer or DIY'er connection choices and great ease of assembly. The shell is engraved "XHADOW" along the top arc of the shell's front border indicating the top-orientation.
The fit of these connectors is smooth but very strong, with a tremendous amount of contact pressure to ensure perfect and consistent signal passage with a minimum of contact resistance.
Priced per pair – M/M or M/F
Finally … an XLR that meets exacting audiophile standards!
RCA & XLR Connectors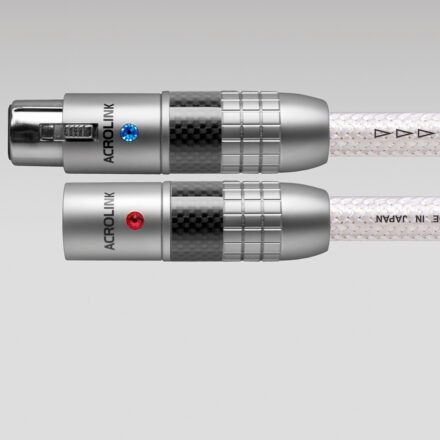 MEXCEL has a single goal: To master new and unprecedented territory for audio cables. Since its appearance in 2004, MEXCEL brought major innovation to the field of audio cables. Mitsubishi Cable Industries, developer of cables for the aerospace and defense industries, teamed up with audio cable specialist ACROLINK for this endeavor. Joint development by those two companies and ESOTERIC has given birth to MEXCEL cables delivering flat transmission characteristics with a wide frequency range going beyond the gigahertz frequency zone. The tremendous information volume carried by gigahertz frequency zone transmission has combined with high-purity 7N Cu (99.99999%) to unleash the potential of audio systems, transcending established concepts for analog and digital transmission cables. Now the fourth generation of MEXCEL cables is here as the result of our quest for a ultimate musical expression. We have now reached a new milestone with products destined to spur a tide of change never before seen in the history of audio cables.