Mastered on our world-renowned mastering system and pressed at RTI, this Silver Label LP dazzles with dead-quiet surfaces, tube-like warmth, and an enhanced soundstage. Further exposing the delicate touches abounding in Stax legend Booker T. Jones' production, this edition brings out the textured kernels of Nelson's voice – and the deep-seeded dignity, austerity, devotion, grit, sensitivity, grace, and plaintiveness within it. His brilliant phrasing throughout is on par with that of Frank Sinatra and Ray Charles, two giants that influenced this project and his willingness to pair with strings and small combo to wondrous effect.
Having met Jones while living in Malibu, Nelson established a relationship with the musician that extended to roles as producer, arranger and band mate. Jones' superior knowledge of the American Songbook comes through via the material's economy of scale and sympathetic approach. Acoustic guitar arpeggios, contrasting breaks, bluesy harmonicas, glowing organs, R&B-tinged horns, brushed drums, and relaxed bass lines trickle throughout the songs, all distinguished by Nelson's intimate timbre and absolutely astonishing vocal expressiveness.
In redefining and reimagining standards such as Irving Berlin's "Blue Skies," Hoagy Carmichael's "Georgia On My Mind," and the age-old "All of Me" – all of which landed in the Top 5 of the Country singles chart – Nelson wedded together pop, country, jazz, folk, and blues in a manner in which no artist had ever before done. He gained considerable rewards for his exquisite efforts: Stardust sold more than five million copies and, incredibly, stayed on the Country album charts for more than ten years.
"Paul Stubblebine mastered this new version for Mobile Fidelity on its lower priced Silver Label. He has nailed the sound that made this a super disc. Compared to a white label promo, the differences are subtle. With first class remastering, Mobile Fidelity's quiet pressing and low price, this is a no-brainer recommendation."
– Dennis Davis, HiFi+
Track Listing
Side A
1. Stardust
2. Georgia on My Mind
3. Blue Skies
4. All of Me
5. Unchained Melody
Side B
6. September Song
7. On the Sunny Side of the Street
8. Moonlight in Vermont
9. Don't Get Around Much Anymore
10. Someone to Watch over Me
Music Vinyl LP's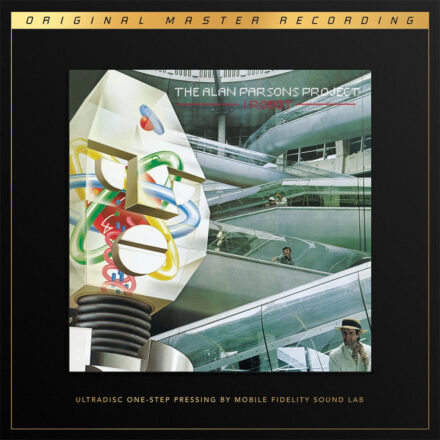 IN STOCK NOW!!
MASTERED FROM THE ORIGINAL MASTER TAPES: ULTRADISC ONE-STEP LP ELEVATES THE AUDIOPHILE STANDARD WHILE OFFERING ONE-FLIP CONVENIENCE Most audiophiles know Alan Parsons Project's
I Robot
by heart. Engineered by Parsons after he performed the same duties on Pink Floyd's
Dark Side of the Moon
, the 1977 record reigns as a disc whose taut bass, crisp highs, clean production, and seemingly limitless dynamic range are matched only by the sensational prog-rock fare helmed by the keyboardist. Not surprisingly, it's been issued myriad times. Can it be improved? Relish Mobile Fidelity's stupendous UltraDisc One-Step 180g 33RPM box set and the question becomes moot.