Mastered from the original master tapes and housed in a mini-LP gatefold sleeve, Mobile Fidelity's numbered-edition hybrid SACD of Whitney invites listeners to experience the Rock & Roll Hall of Fame inductee's pivotal album in audiophile quality for the very first time. Free of the dynamic limitations and tonal flatness prevalent on prior vinyl and CD pressings, it lets the music breathe and reveals the copious detail, nuance, and texture within the immaculately produced songs.
In addition to featuring extreme clarity and immediacy, this numbered-edition reissue does wonders for the attribute that inspired more than 20 million people around the globe to add Whitney to their record collections: that inimitable voice. Houston's trademark mezzo-soprano — an acrobatic instrument equally capable of taking off on fantastic flights and unwinding for hushed meditations — benefits from the fantastic airiness and transparency afforded by this meticulously restored edition. Whitney has never sounded or looked better. The crossover landmark deserves nothing less.
Issued just two years after Houston's breakthrough debut, Whitney immediately signaled the genre-defying singer's intent to continue to push ahead and expand her palette. Shot by photographer Richard Avedon, the album cover depicts an iconic image of Houston — captured with a gleaming smile, bright eyes, teased-out afro, toned arms, and a right hand that appears to wave a friendly hello — whose active, athletic profile stands in contrast to the extremely formal sit-down shot of her that graces her '85 record. The change is telling: Whitney overflows with unfettered joy, rhythmic vibes, and deep-seated emotions that forever endeared her to the hearts and minds of countless listeners — and which set the standard for the wave after wave of divas that followed in her footsteps.
It's no coincidence that the first track on Whitney is the declarative "I Wanna Dance with Somebody (Who Loves Me)." Like Michael Jackson's "Billie Jean" and Madonna's "Material Girl," the feel-good smash is one of the quintessential '80s gems — a lithe, melodic, celebratory release of pent-up energy and loneliness that glides across club floors, shouts to the rooftops, and shrugs off any concerns about vulnerability or embarrassment. Houston's swooping voice moves in sync with the sleek beats and dipping-and-diving synths. She practically takes her fellow musicians by their hand and leads them in a blissful dance that nobody would dare sidestep. Focusing on Houston's singing — a task made challenging only because of the impossible-to-ignore hooks and grooves — showcases the virtuosic facets of not only her register but her control, discipline, smoothness, and warmth.
That she replicates those feats for the entirety of the nearly 53-minute-long album makes Whitney that much more special. Houston reaches back and channels her childhood gospel training on the R&B-flared "So Emotional"; effortlessly slips into Quiet Storm mode on the duet with her mother, gospel great Cissy Houston, on "I Know Him So Well"; flirts with smooth jazz and collaborates with tenor saxophonist Kenny G on the lush "Just the Lonely Talking Again"; conjures dreamscapes and shadow-boxes with supple funk on a romantic cover of the Isley Brothers' "For the Love of You"; and, for the majestic power ballad "Didn't We Almost Have It All," displays the sky-scraping reach of her vocals amid a grand arrangement made even bigger by Houston's sweeping performance and triumphant finish.
Houston's once-in-a-generation talents weren't lost on the adoring public, radio deejays, or industry experts. In addition to harboring four No. 1 hits and receiving nominations for four Grammy Awards, Whitney generated another Top 10 success in the guise of the Afro-Cuban-leaning "Love Will Save the Day." The album also netted Houston four American Music Awards; two Billboard Music Awards; back-to-back People's Choice Awards; a Soul Train Award; and various other accolades. It all makes the crux of the Washington Post's July '87 review of the album appear prophetic: "Her voice sounds stronger still and the songs are varied but so consistent she could garner 10 Top 10s out of a field of 11."
That claim still holds true. A brilliant fusion of pop, R&B, smooth jazz, and soul, Whitney is a showstopper – and one of the key reasons Houston is the most-awarded female artist of all time.
Track Listing
I Wanna Dance with Somebody (Who Loves Me)
Just the Lonely Talking Again
Love Will Save the Day
Didn't We Almost Have It All
So Emotional
Where You Are
Love Is a Contact Sport
You're Still My Man
For the Love of You
Where Do Broken Hearts Go
I Know Him So Well
Music Vinyl LP's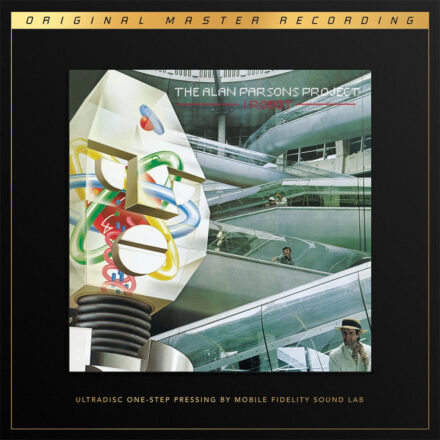 IN STOCK NOW!!
MASTERED FROM THE ORIGINAL MASTER TAPES: ULTRADISC ONE-STEP LP ELEVATES THE AUDIOPHILE STANDARD WHILE OFFERING ONE-FLIP CONVENIENCE Most audiophiles know Alan Parsons Project's
I Robot
by heart. Engineered by Parsons after he performed the same duties on Pink Floyd's
Dark Side of the Moon
, the 1977 record reigns as a disc whose taut bass, crisp highs, clean production, and seemingly limitless dynamic range are matched only by the sensational prog-rock fare helmed by the keyboardist. Not surprisingly, it's been issued myriad times. Can it be improved? Relish Mobile Fidelity's stupendous UltraDisc One-Step 180g 33RPM box set and the question becomes moot.