Sourced from the original analog master tapes and pressed on dead-quiet vinyl, Mobile Fidelity's numbered-edition 180g 45RPM 2LP set elevates the best-selling album of Zevon's distinguished career to audiophile status. Co-produced by Browne and Waddy Wachtel – and featuring contributions by members of Fleetwood Mac plus Linda Ronstadt, J.D. Souther, Leland Sklar, and Browne – the platinum-certified record now plays with a verve and explosivity that match its subject matter. Listeners will experience wide separation between the instruments; full-range dynamics that underscore the depth of the arrangements; sterling transparency that draws a through-line to the original sessions at the Sound Factory; warmth on a par with the finest analog recordings; presence that elevates the body and tenor of Zevon's vocals; and an openness and balance resulting from the freedom that Browne and Wachtel afforded recording engineer Greg Ladanyi.
That lenience coincides with the record's primary themes and speaks to the freewheeling spirit in which it was made. Excitable Boy delightfully teeters on the verge of chaos – and, often, causes us to question what the zany singer-songwriter has gotten into (and what he is going on about). Not yet two years removed from his critically acclaimed self-titled major-label debut, Zevon had already established a fabled reputation for debauchery and grown more perceptive about the twisted underbelly and self-destructive nature of U.S. politics and society.
The singer's astuteness – and lethal combination of the personal and public – proves intoxicating. Excitable Boy comes on as a seamless collection of nine hard-boiled stories owing to a tradition established by Raymond Chandler, continued by Hunter S. Thompson, and carried into the 21st century by "Breaking Bad" and "Better Call Saul" creator Vince Gilligan. We may want to close our eyes and turn away from his reports, but Zevon makes doing so impossible. The protagonists' actions, behaviors, appetites, and decisions are too intriguing and forthright; their impact hits too close to home. We mingle, stare, draw closer. In a perverse way, Excitable Boy is our shared carnage – a wickedly funny and ever-germane pile of wreckage.
Nowhere is that more evident than in Zevon's tales involving America's domestic and foreign enterprise. In "Roland the Headless Thompson Gunner," co-written with former mercenary David Lindell, Zevon crafts a story of bloodshed, vengeance, and profiteering starring a mercenary who fights in the Congo Crisis only to get exterminated by the CIA because of his killing skills. Yet the soldier of fortune gets the last laugh: Resurrected as a ghost, he slays his assassin, and, like a zombie, roams the landscape for eternity. "Veracruz" is similarly sobering and historically rooted. Based on the U.S. occupation of the port city during the Mexican Revolution, Zevon's account – hitched to a gorgeous arrangement – simultaneously offers a sympathetic view of those crushed by U.S. transgressions and functions as a smart take on the past.
Ghosts of the present haunt the title track, a berserk affair sent up with a lively doo-wop chorus and lilting barroom piano. Titled after a nickname friends gave Zevon, "Excitable Boy" foreshadowed the government's decision to slash mental health-care budgets and involves the same concepts of privilege explored throughout the record. Speaking of privilege: The cascading "Lawyers, Guns, and Money" – written after Zevon and a colleague joked about being bailed out of a precarious situation by Warner Bros. president Joe Smith – addresses personal entitlement and U.S. diplomacy in no uncertain terms.
Ironically, and likely intentionally, Zevon sets up everything by opening the record with its most upbeat and innocuous track, "Johnny Strikes Up the Band." The mid-tempo adrenaline shot turns sadness to joy while suggesting that the material that will follow will adhere to the same vibe. Consider the song Zevon's way of displaying his shrewdness via the sequencing of a long-playing record. Though he gives listeners a breather with "Nighttime in the Switching Yard" and hints at calm on "Tenderness on the Block," the serenity of the latter gets shattered by what he says in between the lines of the verses.
There's nothing subtle about "Werewolves of London," a cult-favorite hit that stemmed from Zevon's association with Phil Everly. Akin to those in Bob Dylan's "Desolation Row," the deceptively comedic lyrics blend pop culture with classically grotesque imagery en route to establishing a riotous storyline. Dubbed a "dumb song for smart people" by Zevon, the cut zoomed into the Billboard Top 30 and remains beloved for its fun-spirited "ah-hoo" choral bits. Its appeal is fitting. Like the hairy creatures in the song and the ghosts wandering the corridors of Excitable Boy, Zevon's legacy still runs amok via the grooves of his finest studio work. Draw blood, indeed.
Track Listing
Side A
Johnny Strikes Up the Band
Roland the Headless Thompson Gunner
Excitable Boy
Werewolves of London
Accidentally Like a Martyr
Side B
Nighttime in the Switching Yard
Veracruz
Tenderness on the Block
Lawyers, Guns, and Money
Music Vinyl LP's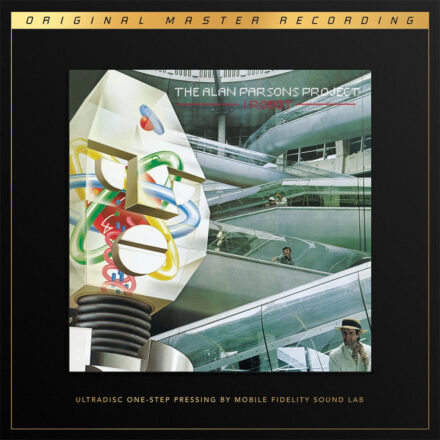 IN STOCK NOW!!
MASTERED FROM THE ORIGINAL MASTER TAPES: ULTRADISC ONE-STEP LP ELEVATES THE AUDIOPHILE STANDARD WHILE OFFERING ONE-FLIP CONVENIENCE Most audiophiles know Alan Parsons Project's
I Robot
by heart. Engineered by Parsons after he performed the same duties on Pink Floyd's
Dark Side of the Moon
, the 1977 record reigns as a disc whose taut bass, crisp highs, clean production, and seemingly limitless dynamic range are matched only by the sensational prog-rock fare helmed by the keyboardist. Not surprisingly, it's been issued myriad times. Can it be improved? Relish Mobile Fidelity's stupendous UltraDisc One-Step 180g 33RPM box set and the question becomes moot.