The latest version of the Long Dog Audio Phono Amplifier is now available for purchase, it is a no compromise build which will bring out the best in your vinyl if you are using an MC cartridge. On demonstration in our Huddersfield premises or we can travel to see any customer who would like to listen to the phono stage in their own home.
This phono amplifier negates the need for step up transformers as these bring their own problems, the Revel phono stage has been engineered to get the maximum performance from any moving coil cartridge WITHOUT the need for a SUT.
Mains Cables R Us offer a valve phono stage to accompany your turntable, manufactured to a specification like no other, incorporating valves in the design has resulted in a rather special sounding phono stage, able to work with the very best turntables and built to order with black or silver casing.
The design has been auditioned by some of the most critical audiophiles with one commenting it is as good as or better than a rival design costing much more.
Please contact us for a demonstration if you are serious about your vinyl replay. We have a demo model available for audition in your own home.
The latest customer to purchase the phono stage writes thus:- 
hullo,i am using the denon 100year anniversary turntable with a denon 104 cartridge also using audio note silver cable in the whole system.i have stone isolation under every unit i have as well as an isotek sigma and isotek sychro mains cable to power it.i am using the phono stage with many types of music which all sound good with this system.i am pleased with my phono amp.thank you for my purchase. MR.J.S.Anderson.
Specifications
Overall gain 62dB at 1kHz
Overload at 42v RMS output (40mv input)
Frequency response within 0.25dB of RIAA (with 3.18us corner) from 20Hz to 20kHz
Active loaded output driver provides low impedance output to preamp or integrated amp
Choke power supply and shunt regulator per channel provides ultra low noise and stable power rails
Direct input MC stage sutable for low output cartridges avoids the smearing and loss of detail associated with step up transformers (even the best ones)
Single stage RIAA network employing zero loop feedback
Selected components matched to within 0.1%
Simple loading adjustment through RCA plugs loaded with resistor provides varying cartridge load.
Good quality components used througout. Takman carbon and metal resistors, ICW Clarity Cap SA capacitors, JJ ECC88 and Philips 5687 triodes
The phono stage has a set of loading sockets on the rear for correct cartridge matching, we will supply 3 evaluation sets with each stage to allow you to choose the best one to suit your cartridge.
Supplied as standard mounted on RDC cones and supplied with an IsoTek EVO3 mains power lead included in the price.
Some thoughts on the rational behind the design can be read here:-
Phono Stages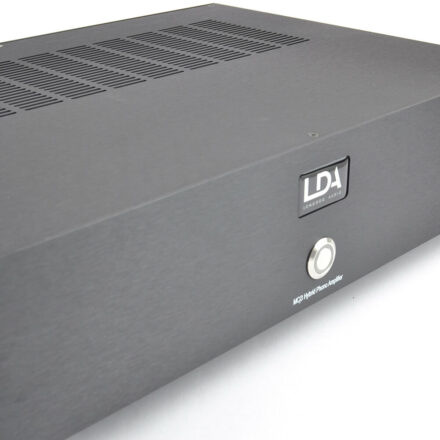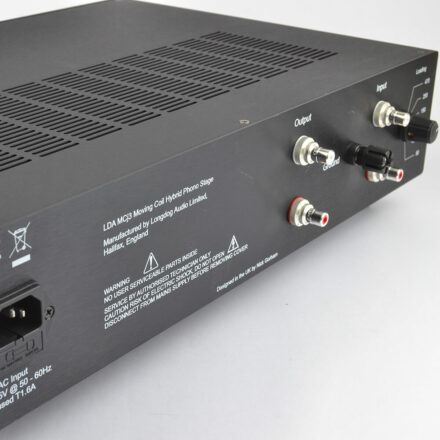 One Unit ex-dem in SILVER with full warranty.
The Longdog MCJ3 is a dedicated MC phono stage based on a sophisticated hybrid of jfets with valve technology. The MCJ3 is a purist design, dedicated to its singular task; amplifying MC cartridges with 64dB of gain.
On demonstration in our Elland premises.