Hand built in Britain, the Tellurium Q Blue USB cable is the baby brother of the Black USB. Tellurium Q put years of research and development into every product. With little consideration to the cosmetic appeal of their products, Tellurium Q place all their focus onto performance and quality.
Their philosophy is to only release a product that they believe is to be of the best quality in that price range. Here at MCRU, we hold the same standard for our 'house' products.
Mains Cables R Us is an authorised stockist of Tellurium Q cables, and we keep their full cable range. We have demonstration sets that we can send out for evaluation, so please contact us to discuss your needs.
We use these cables in our own system, so we know just how good they are; and there is a 30 day money-back guarantee offered on everything we sell, providing total peace of mind.
Read more about the Tellurium Q Blue USB Cable here on the Tellurium Q website
Reviews
Read a review from AVTECH MEDIA
"Comparing the Blue lead with the best cables that I have in the house was an eye-opener. I found that I was getting a smoother and more detailed treble response, a very fast delivery of the bass and an open soundstage that displayed a certain amount of depth that I am not used to hearing from a USB connected source. The smoothness of the treble was tested when playing some of the less well presented recordings available on youtube.com. Music that had been nearly reduced to a raucous noise with ordinary USB leads, became somewhat disentangled and listenable to"
The full review can be found here HIFIWORLD
Computer Audio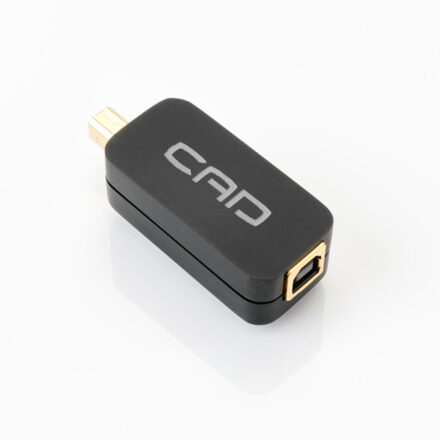 The new CAD USB Filter replaces the USB I cable. The Filter employs the same patented filter technology, developed in-house by Scott Berry, as used in the new USB II-R cable. The CAD Audio USB Cables are optimised specifically for audio use in conjunction with a USB Digital to Analogue Converter.