Santana's self-titled debut album announces the arrival of a new Guitar God. Made during the legendary bandleader's most fruitful and creative period, the classic 1969 set functions as an accessible entry point into the tangy worlds of Latin music by way of an intoxicating blend of Afro-Cuban percussion, jazzy tempos, exotic leads, bluesy riffs, and psychedelic accents.
Indeed, separation between Carlos Santana's fluid fills, spicy solos, and broiling grooves and pianist Gregg Rolie's soulful Hammond organ runs allows the music to come alive with a newfound freshness and radiance. Songs simmer, with each passage bursting forth with vibrant colour. Just like the equally essential follow-up Abraxas, Santana also lays claim to one of the biggest (and unfortunate) production gaffes in music history.
For nearly four decades, copies were produced with the left and right channels reversed, meaning that everything was placed in a backwards manner. This even extended to compilations on which individual songs from Santana were included. Rest assured that, in addition to boasting reference audiophile sonics, this 180g 45RPM 2 LP set gets all the specifications exactly right. And with a record of this magnitude, you want everything to be perfect.
Bound by natural chemistry and earthy spirituality, the record's innovative synthesis of myriad styles goes beyond anything that came before—as well as nearly everything that's followed. Playing with the finest band that the iconic guitarist ever had, Santana doesn't water down any exotic roots or simply incorporate mainstream Western styles into a Latin framework. This is a true hybrid, responsible for opening up borders, transcending cultural divides, and, most importantly, exhilarating the senses.
Released weeks before the band blew minds at Woodstock, the groundbreaking record stands alongside Miles Davis' Bitches Brew and Jeff Beck's Beck-Ola as a pillar of rock fusion. Featuring the Top Ten radio smash "Evil Ways" and jam favourite "Soul Sacrifice," it hasn't aged a day. Hear like never before why Rolling Stone says Santana is #149 on its list of the Greatest Albums of All Time.
TRACK LISTING:
SIDE ONE
Waiting    4:07
Evil Ways    4:00
SIDE TWO
Shades Of Time    3:14
Savor    2:46
Jingo    4:23
SIDE THREE
Persuasion    2:47
Treat    4:46
SIDE FOUR
You Just Don't Care    4:37
Soul Sacrifice    6:38
Music Vinyl LP's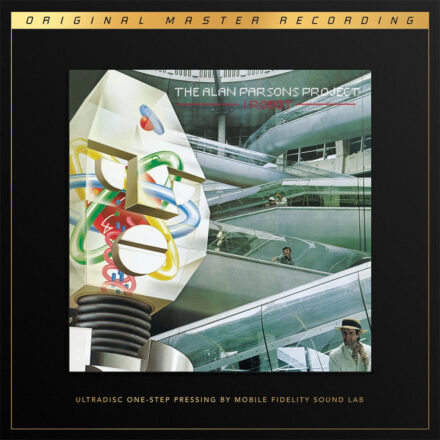 IN STOCK NOW!!
MASTERED FROM THE ORIGINAL MASTER TAPES: ULTRADISC ONE-STEP LP ELEVATES THE AUDIOPHILE STANDARD WHILE OFFERING ONE-FLIP CONVENIENCE Most audiophiles know Alan Parsons Project's
I Robot
by heart. Engineered by Parsons after he performed the same duties on Pink Floyd's
Dark Side of the Moon
, the 1977 record reigns as a disc whose taut bass, crisp highs, clean production, and seemingly limitless dynamic range are matched only by the sensational prog-rock fare helmed by the keyboardist. Not surprisingly, it's been issued myriad times. Can it be improved? Relish Mobile Fidelity's stupendous UltraDisc One-Step 180g 33RPM box set and the question becomes moot.