Embracing the concept that all of the members should share their musical ideas, Santana added two crucial components to his band: Schon, discovered at the age of 15 playing in a Palo Alto club, and Thomas "Coke" Escovedo, who during the sessions temporarily replaced ill percussionist Chepito Areas, and whose percussive assistance helped define the album's feel. With Schon in the fold, Santana strives for the unknown, and yet, manages to stave off the numbing excesses that define much of the period's output.
From the opening "Batuka," peppered with Schon's stirring guitar lines, to the sensitive "Everything Is Coming Our Way," infused with a mesmerizing Hammond organ underpinning that supports Santana's vocal pathos, the record teams with inventiveness. Involving albeit accessible concoctions of funk, jazz, rock, blues, and soul run throughout the set. Spanish-styled flavors infuse a majority of the material, ranging from the salsa piano on "Guarjira" to the distinctive "No One to Depend On," a lively take on the cha-cha-cha.
A globe-spanning armada of percussive instruments – timbales, congas, drums, vibes, tambourines, and more – as well as the existence of a three-person percussion team that fits in harmoniously with Santana, Schon, and company makes Santana III a masterful accomplishment in musical chemistry and the exploration of true world craft.
The Silver Label LP of Santana III breathes with sumptuous warmth and you-are-there realism. The tension of Schon's guitar lines, the album's open sound, and extensive use of studio echoes (check the presence of the backward echo on "No One to Depend On") fill the soundstage, replete with the kind of depth and dynamics one expects from a first-rate audiophile recording.
Track Listing
Batuka
No One to Depend On
Taboo
Toussaint L'Overture
Everybody's Everything
Guajira
Jungle Strut
Everything's Coming Our Way
Para los Rumberos
Music Vinyl LP's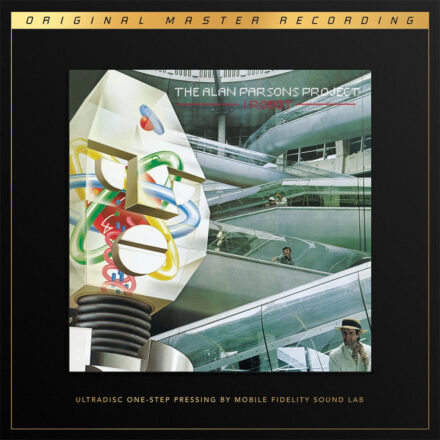 IN STOCK NOW!!
MASTERED FROM THE ORIGINAL MASTER TAPES: ULTRADISC ONE-STEP LP ELEVATES THE AUDIOPHILE STANDARD WHILE OFFERING ONE-FLIP CONVENIENCE Most audiophiles know Alan Parsons Project's
I Robot
by heart. Engineered by Parsons after he performed the same duties on Pink Floyd's
Dark Side of the Moon
, the 1977 record reigns as a disc whose taut bass, crisp highs, clean production, and seemingly limitless dynamic range are matched only by the sensational prog-rock fare helmed by the keyboardist. Not surprisingly, it's been issued myriad times. Can it be improved? Relish Mobile Fidelity's stupendous UltraDisc One-Step 180g 33RPM box set and the question becomes moot.