Roon Nucleus Plus music sever incorporates an upgraded i7 processor and double the RAM of the standard Nucleus. Housed in a visually aesthetic case, it also has 128Gb OS SSD running Roon's bespoke operating system. Point it at a NAS, hook in a USB hard drive or install an SSD/HDD to its internals.
The Roon Nucleus features an i3 processor, 4Gb RAM and a 64Gb OS SSD. Housed in an elegant case, it runs Roon's bespoke operating system. User have the capability to point it at a NAS, hook in a USB hard drive or install an SSD/HDD to its internals. The Nucleus is powered by an external power supply, MCRU have their own dedicated regulated linear supply which can be purchased at the same time (3.6 amps x 19V DC)
Developed in partnership with Intel, Roon Labs have launched a brand new hardware product called the Nucleus. Nucleus sits on your network acting as a Roon Server/Core for your NAS- or USB drive-based music library and Tidal making both available to any and every Roon endpoint you have.
Roon built a custom based operating system around the Intel NUC board. The Nucleus is housed in a special casing and runs fanless so it can be placed with your hi-fi equipment if you need to connect it via USB to your DAC.
Roon Core boots up in just 1.8 seconds and there are two variants; i3 or i7 to choose from both with an integral SSD for the operating system with an option to add an SSD or HDD hard drive. You can also choose to connect via USB or NAS music storage and the HDMI output supports multi-channel playback functioning with any network Roon Ready device. A 19V linear power supply is also available as an optional upgrade.
Simply connect a USB DAC or stream to any of the huge family of network players supported by Roon. Roon is constructed differently to most audio systems out there and consists of a single core along with as many controls and outputs as you could need. You get the same Roon experience whether you're running on a single PC or on devices around your home.
What makes 
Nucleus 

so special?

We've been asked this question about a million times since we announced Nucleus – our first hardware product – last year, so we've put together a comprehensive white paper that discusses the concept behind the product, the design decisions that were made during the development process, and the nitty gritty of the hardware and software technologies we ended up using. This email is an overview of some of that information; if you want the whole story, go read the paper!
THE BEST WAY TO EXPERIENCE ROON
Roon software can be used on many platforms, including Mac, Windows, and Linux PCs, as well as NAS devices and a variety of media servers. Each of those platforms has its benefits and shortcomings, but none of them achieves a perfect balance between ease of use, raw performance, and audiophile design.
Based on feedback from audio dealers and custom integrators, we designed Nucleus to do just that… provide the best Roon experience in each of these areas.
Perfection is achieved, not when there is nothing more to add, but when there is nothing left to take away.
– Antoine de Saint-Exupéry
Roon has enjoyed tremendous success among computer audiophiles and other tech-savvy enthusiasts, but our long-term goal is to reach everyone who loves music. To do that, we created Nucleus, a product which requires nearly no computer knowledge or networking skill. You literally take it home, plug it in, and control it with the Roon Remote app for iPad, iPhone, or Android device (and of course the Roon app for Mac/Windows). Because it's running Roon, Nucleus finds the audio devices on your network and makes it easy to stream to them.
ROON-CLASS PERFORMANCE
Unlike simple music player apps, Roon is designed to make use of modern computing power (and the more of it the better). So we've worked with Intel to develop Nucleus on their highest-performance NUC platform, which means that using Roon with Nucleus feels incredibly fast, and there's horsepower to spare for handling large music libraries, multi-room streaming, and digital signal processing.
In the white paper you'll learn what design decisions led to our choice of CPU, boot media, internal storage options, and more.
AN OPERATING SYSTEM BUILT FROM THE GROUND UP
Rather than use a desktop or server operating system like Windows, a Linux distribution, or a system-builder tool, we realized that a truly bespoke operating system is an area in which we can add real value. Roon OS an optimized Linux-based operating system developed by Roon Labs to provide the best reliability and performance for what Roon does – networking, storage, and fast database access – and nothing else. The white paper provides loads of detail about how we achieved this, and what's unique about our over-the-air software/firmware update process.
RELIABLE, ROBUST, AND TAMPER-RESISTANT
We've seen our share of audio products with network capabilities, and often it's clear that they were designed without network security in mind. Learn what's unique about the way Roon OS powers Nucleus, protects itself from "enterprising hobbyists", and ensures reliable and robust operation even in extraordinary network conditions.
DESIGNED TO AUDIOPHILE STANDARDS
Nucleus is for people who love music, so it has to stand up to the scrutiny of the toughest customers out there. Designing Nucleus without fans, spinning disks, or other moving parts – while maintaining the level of computing performance Roon requires – brought some interesting thermal and mechanical challenges. Learn why Nucleus is the best way to run Roon whether you have a top-spec listening room, a home theater, or a dedicated multi-room equipment rack.
Music Servers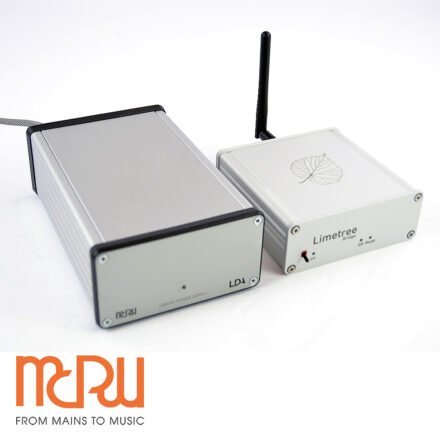 Lindemann Limetree Bridge II The Limetree BRIDGE II is a high-quality network adapter designed to transfer music from streaming services and local storage media digitally in studio master quality to existing D/A converters or other devices with digital inputs. This makes it possible to upgrade an existing hi-fi system with streaming for little money. Here we would like to address owners of older LINDEMANN devices such as the 820S or the 825, but of course all other customers with a converter or a CD player with a digital input as well. For this purpose the Limetree BRIDGE II is simply connected with the network by means of a LAN cable or via WLAN. It has also a USB port for connecting hard disks or USB storage media. There is an optical and a coaxial digital output. A professional studio engineering sample rate converter makes sure that all streamed formats can be played back on an existing converter without major losses in sound quality.