To truly appreciate and get the best from your digital music files or the very best sound from your CD transport buy the best DAC you can afford. PS Audio's obsession with electronics and their quest to product the best money can buy has brought us here.
Pure DSD done right
Just released! The latest operating system update, Windom. Transform your DirectStream, yet again, with this stunning new OS and add MQA and Tidal with the optional Bridge II.
Introducing DirectStream DAC, both Stereophile and Absolute Sound's Product Of The Year. Handwritten, discrete, perfection based conversion that uncovers all the missing information hiding in your digital audio media for all these years. CD's, downloads, high-resolution PCM or DSD based media are expertly upsampled in the DirectStream to twenty times DSD rate and output as pure analog directly into your amplifier or preamplifier.
Classic PCM based DACS, including many of today's DACS that can also process DSD, tend to cover up some of the subtle musical details buried deep within digital audio music; a problem inherent in their architecture. DirectStream solves this problem by employing a pure DSD single-bit approach for both PCM as well as DSD media. This means that your entire library of music can finally reveal all the music and subtle low-level details buried deep within its core. Imagine going to a recording studio and listening to a master tape of any recording made.
This is the experience DirectStream provides its owners who enjoy a renewed sense of enjoyment and discovery when listening to everything in their library: CD's, downloads, DSD.
The start of the 30-year war
In 1981, music was reproduced exclusively on analog-based turntables and tape decks with limited dynamic range.Despite the very listenable music coming through those grooves, the audio world wanted more: greater dynamic range, lower noise, extended frequency response. No wonder that when, in 1982, Sony and Philips announced they had achieved "Perfect Sound Forever," music lovers around the world waited in eager anticipation of analog's promise finally fulfilled. Unfortunately, those early CD's sounded less musical than analog. In some cases, much worse. The launch of the PCM-based Compact Disc would set in motion a 30-year war amongst Audiophiles, decimate the analog format, cover up subtle musical details for decades and turn the music and audio industries upside down–and not necessarily in a good way. There had to be a better way to fulfill the promise of analog's century of dominance for sounding like music and PCM would not be it. That answer is DSD.
Fundamentally better
The poor results of the first CD's might not have been a problem if Sony and Philips had waited another decade, passing over the classic PCM delivery system in favor of PDM (DSD). The problem is the PCM decoding process itself: whether a classic ladder-DAC or more modern multi-bit Sigma-Delta type, most PCM playback processors mask some of the subtle cues in music. Fortunately, music's details have been more faithfully recorded than we ever suspected, but the cover-up of those recorded details has been with us for more than 30 years. Happily, the missing musical information is still buried deep within our audio libraries–waiting to be revealed. In order to extract everything hidden in PCM recordings, a completely new processing method is needed.
Pure DSD is the answer
Put DSD into DirectStream, you get DSD. Put PCM (how CD's are recorded) into DirectStream, you get DSD. DirectStream converts all digital inputs, including PCM, to pure 1-bit DSD, in an elegantly-simple path. In the process, the PCM feed becomes more linear, less edgy, and never-before-heard musical details are released from all digital audio recordings. Billions of CDs and high-resolution downloads worldwide will gain new life, and be saved from obsolescence. There's a notion floating around high-end audio circles that DSD may be nothing more than a passing fad. In fact, we would suggest the opposite may be true. PCM based music decoders are nearing the end of their lifecycle in favor of a significantly more musical sounding format, DSD.
A better format
DSD is a high sample rate single-bit format while PCM is a lower sample rate many-bit format. DSD sample rates are 64 times higher than those used to create CDs and the output of a DSD stream can be placed through a simple filter to produce pure analog ready to feed your audio system. PCM, on the other hand, can produce great sounding music but to do so requires a very complex and technically daunting conversion process to produce something you can play on your system. Sometimes the simplest path is the best sounding one. DSD is a far more analog-like encoding and decoding process than classic PCM. In fact, most modern A/D converters (used to make the recordings) are DSD based already and that movement is growing. There are millions of PCM based recordings that will be in our libraries for years to come, but with the introduction of DirectStream, you no longer need listen to them with a PCM based processor.
The secret is in its simplicity
Take a look at this comparison diagram: on the top is a block diagram of one of the best PCM-based processors in the world. Notice the circuitous path taken by the audio data stream to the output of this converter. Then look at the pure simplicity of the DirectStream. The PCM processor's tendency to mask music's subtle details is largely due to its complex needs, and the technical requirements of PCM processors.
Full specifications of this landmark product on the PS Audio website here.
PS Audio Range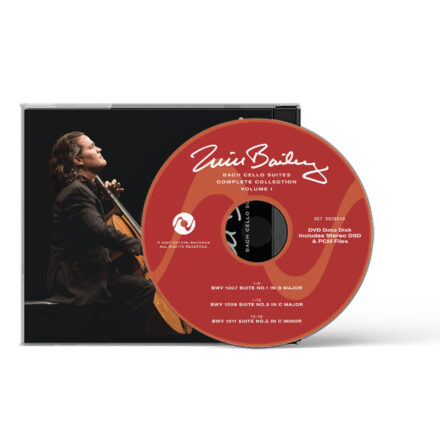 ""Stunning!" The six unaccompanied cello suites are a cornerstone of the classical cello repertoire."