Mastered from the original master tapes, Mobile Fidelity's numbered hybrid SACD enhances the music for generations to come. Featuring sublime sonics, it strips away remaining film and limitations to provide a clear, transparent, ultra-dynamic view of a record that won Grammy Awards for Album of the Year and Best Male Pop Vocal Performance. The expanse and depth of the soundstage, fullness of detail, reach of the omnipresent electric piano, and natural rise and decay of individual notes will leave you breathless.
The newfound immediacy, presence, texture, and dark-black backgrounds showcase the scope and craft of Simon's alluring melodies – as well as the intentional conflict between the tense lyrical content and the deceivingly pleasant aura. Still Crazy After All These Years resonates with a decided nasty streak and delves into adult romance with rapier wit. Indeed, in its original review of the album, Rolling Stone pertinently observes, "There is something ominous about the disparity between Simon and Phil Ramone's typically elaborate, creamy production and the downbeat theme of the album."
Nowhere is the distinction more pronounced than on the seductive, irony-rich smash "50 Ways to Leave Your Lover." Interviewed decades ago about its creation and appeal, Simon explained what makes the track structurally distinct. "I was studying harmony with [bassist Chuck Israels]. Instead of using a minor chord, I use a major chord and go up a step. It is hard to get an interesting key change. I also like to write a bridge and just jump a whole tone up." Needless to say, the approach worked. The song remains Simon's most successful solo hit, and joins three other tunes from the record to have climbed into the Top 40.
The other charting numbers – the loose-limbed title track (complete with a Michael Brecker saxophone solo), "Gone at Last" (a duet with Phoebe Snow), and "My Little Town" (which reunited Simon with his former partner Art Garfunkel for the first time in nearly five years) – prove equally sharp. In certain ways, Still Crazy After All These Years plays as the musical complement to Woody Allen's signature film Annie Hall, which, coincidentally, Simon would appear as a sleazy record producer. Relatedly, "Have a Good Time" witnesses Simon laughing his way through thinly disguised depression while the kiss-off "You're Kind" distills a splintered romance down to the preference of keeping a window open or closed.
"And you're good, you're so good/You introduced me to your neighborhood" Simon sings, slicing through pain with stinging zingers and a coy grin that announce the turning over of a new leaf, which culminated with his performing on "Saturday Night Live" in a turkey costume. But that's a story for another day.
Track Listing
Still Crazy After All These Years
My Little Town
I Do It for Your Love
50 Ways to Leave Your Lover
Night Game
Gone at Last
Some Folks' Lives Roll Easy
Have a Good Time
You're Kind
Silent Eyes
SACD's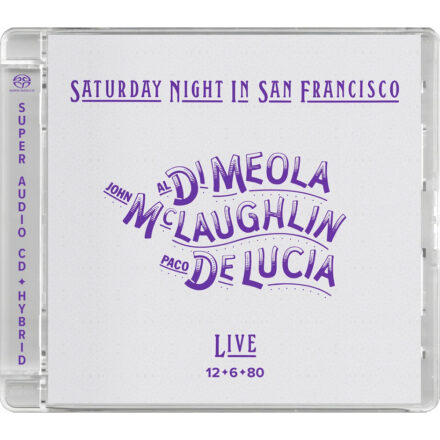 Audiophile SACD Never before released!!!
Assembled from the original 16-track analog live session tapes by Al Di Meola with engineers Katsu Naito & Roy Hendrickson Mastered from analog tapes by Bernie Grundman at Bernie Grundman Mastering Pressed at Record Technology Inc. Deluxe new packaging with never-before-seen photos Exclusive essay by Charles L. Granata feat. new interviews with Al Di Meola & original recording engineer Tim Pinch Long-Awaited Follow Up To Friday Night In San Francisco! From Original 16-Track Analog Live Session Tapes by Al Di Meola, Katsu Naito & Roy Hendrickson! Mastered From Analog Tapes by Bernie Grundman! Pressed at RTI!