Come Away With Me and its follow-up, Feels Like Home no doubt alerted the world to Jones' talent, but those who'd seen her live reported a command of nuance that never quite came across in her recorded work. Not Too Late, with Jones' vocals more confidently in the front of the mix, is this rising superstar's most solid and fluid record to date.
Musicians:
Norah Jones, vocals, piano
Lee Alexander, bass
Andrew Borger, drums
Adam Levy, guitars
Daru Oda, background vocals
Track Listing
1. Wish I Could
2. Sinkin' Soon
3. The Sun Doesn't Like You
4. Until The End
5. Not My Friend
6. Thinking About You
7. Broken
8. My Dear Country
9. Wake Me Up
10. Be My Somebody
11. Little Room
12. Rosie's Lullaby
13. Not Too Late
SACD's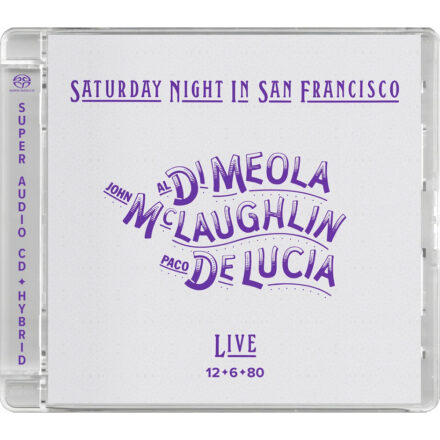 Audiophile SACD Never before released!!!
Assembled from the original 16-track analog live session tapes by Al Di Meola with engineers Katsu Naito & Roy Hendrickson Mastered from analog tapes by Bernie Grundman at Bernie Grundman Mastering Pressed at Record Technology Inc. Deluxe new packaging with never-before-seen photos Exclusive essay by Charles L. Granata feat. new interviews with Al Di Meola & original recording engineer Tim Pinch Long-Awaited Follow Up To Friday Night In San Francisco! From Original 16-Track Analog Live Session Tapes by Al Di Meola, Katsu Naito & Roy Hendrickson! Mastered From Analog Tapes by Bernie Grundman! Pressed at RTI!