Mastered from the original analog master tapes, pressed at RTI, and limited to 40,000 numbered copies, Mobile Fidelity's UltraDisc One-Step 180g 33RPM LP set does for Thrillerwhat Jackson's unforgettable appearance on the "Motown 25" TV special in 1983 did for his career: It makes the music personal, human, desirable, relatable, imaginative – the definition of cool. This extraordinary reissue does so by presenting the songs in lifelike fashion, zeroing in on the fundamentals with laser focus, and magnifying the brilliance of the production, arrangements, and vocals in ways that let everyone experience Thriller as if hearing the album for the first time.
Surpassing the sonics of earlier reissues and pressings, Mobile Fidelity's 180g LP set strips away prior limitations and provides a clear, dynamic view of a landmark that crashed through every conceivable barrier and permanently transformed music, culture, and society. The expanse and depth of the soundstage, range of detail, percussive textures, air around the vocals, and natural decay of notes come through with demonstration-grade realism.
The gorgeous packaging of the Thriller UD1S pressing befits the album's select status. Housed in an open-ended slipcase, the set features a special foil-stamped jacket and faithful-to-the-original graphics that illuminate the splendor of the recording. Aurally and visually, this reissue exists as a curatorial artifact meant to be preserved and examined. It is made for discerning listeners that prize sound quality and production, and who desire to fully immerse themselves in everything involved with the album.
Given that no album released during the past four decades even approaches the magnitude of Thriller, everything about it remains important. Numbers – even the "40" tied to its anniversary – don't even tell half the story. The 1982 blockbuster has sold more than 34 million copies in the U.S.; globally, it has moved upwards of 70 million units. Thrillerdominated the 1984 Grammy Awards, winning a record-breaking eight trophies and sweeping every major category. It repeated the feat at the American Music Awards. Seven of its nine songs were released as singles; each charted in the Top 10. Perhaps most astonishingly, Thriller topped the Top 200 Albums chart for 37 weeks during a 59-week stretch. Fast forward 24 years, and the album was the biggest-selling catalog title of 2008.
The record's unimpeachable accolades and archival standing help provide another frame of reference. Acclaimed upon arrival, Thriller topped The Village Voice's comprehensive Pazz & Jop poll in 1983. Included in both the Library of Congress' National Recording Registry and the Grammy Hall of Fame, Thriller was ranked by the Rock and Roll Hall of Fame at No. 3 on its Definitive 200 Albums of All Time. Rolling Stone named it the 12th Greatest Album of All Time. TIME deemed it "the greatest pop album of all time." The Independent called it "the most inspiring album of all time."
Thriller proved as influential as it did inspiring. Its unparalleled success, dazzling style, and sleek architecture changed every facet of culture and entertainment. The reverberations echoed throughout society. Thriller crossed over to mainstream channels and white audiences with a degree that no Black musician managed in decades (if ever); prompted MTV to give Black artists a widespread platform; elevated choreography and dance to higher-level artforms; shattered long-standing racial boundaries; and reconceptualized music via a genre- and color-blind blend of fleet pop, funk, disco, soul, and rock sent up with cinematic panache, oversized ambition, and dynamic energy.
Its effect on multitudes of subsequent artists cannot be overstated. Thriller opened up a new galaxy in which Prince soon strolled. It's the same universe that Usher, Maxwell, and Jamiroquai joined in the '90s and that contemporary headliners like Beyonce, Justin Timberlake, and Bruno Mars orbit today. Their style-blurring identities, R&B-rooted foundations, and interdisciplinary approaches directly link to those on Thriller. Notably, the album's first single – "The Girl Is Mine," a duet and co-write with Beatles legend Paul McCartney – captured the record's unwillingness to cater to a specific race, generation, class, or style. Eddie Van Halen – at the time, the world's premier rock guitarist – performed a similar bridge role by supplying the electrifying solo on "Beat It."
Jackson, Quincy Jones, and company do the rest. Drop the needle on any track on Thriller and the insatiable desire to move takes hold. So do sensations of familiarity, pleasure, fun, and soulfulness. Be it the breathless, bass-laden swagger of the Moonwalking "Billie Jean"; horn-accented, post-disco slide of the gossip critique "Wanna Be Startin' Somethin'"; rousing tempo of the lush, sequin-adorned "P. Y. T. (Pretty Young Thing)"; gentle balladry and liquid vocal phrasing of "Human Nature"; vivid hybrid of funk-disco and horror-film drama of the title track; or streetwise strut and rhythmic fantasia of "Beat It," Thriller never lets up.
"It's close to midnight…"
More About Mobile Fidelity UltraDisc One-Step and Why It Is Superior
Instead of utilizing the industry-standard three-step lacquer process, Mobile Fidelity Sound Lab's new UltraDisc One-Step (UD1S) uses only one step, bypassing two processes of generational loss. While three-step processing is designed for optimum yield and efficiency, UD1S is created for the ultimate in sound quality. Just as Mobile Fidelity pioneered the UHQR (Ultra High-Quality Record) with JVC in the 1980s, UD1S again represents another state-of-the-art advance in the record-manufacturing process. MFSL engineers begin with the original master tapes and meticulously cut a set of lacquers. These lacquers are used to create a very fragile, pristine UD1S stamper called a "convert." Delicate "converts" are then formed into the actual record stampers, producing a final product that literally and figuratively brings you closer to the music. By skipping the additional steps of pulling another positive and an additional negative, as done in the three-step process used in standard pressings, UD1S produces a final LP with the lowest noise floor possible today. The removal of the additional two steps of generational loss in the plating process reveals tremendous amounts of extra musical detail and dynamics, which are otherwise lost due to the standard copying process. The exclusive nature of these very limited pressings guarantees that every UD1S pressing serves as an immaculate replica of the lacquer sourced directly from the original master tape. Every conceivable aspect of vinyl production is optimized to produce the most perfect record album available today.
Track Listing
Wanna Be Startin' Somethin'
Baby Be Mine
The Girl Is Mine
Thriller
Beat It
Billie Jean
Human Nature
P.Y.T. (Pretty Young Thing)
The Lady in My Life
Music Vinyl LP's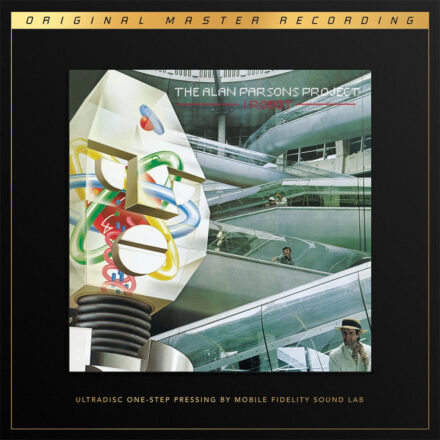 IN STOCK NOW!!
MASTERED FROM THE ORIGINAL MASTER TAPES: ULTRADISC ONE-STEP LP ELEVATES THE AUDIOPHILE STANDARD WHILE OFFERING ONE-FLIP CONVENIENCE Most audiophiles know Alan Parsons Project's
I Robot
by heart. Engineered by Parsons after he performed the same duties on Pink Floyd's
Dark Side of the Moon
, the 1977 record reigns as a disc whose taut bass, crisp highs, clean production, and seemingly limitless dynamic range are matched only by the sensational prog-rock fare helmed by the keyboardist. Not surprisingly, it's been issued myriad times. Can it be improved? Relish Mobile Fidelity's stupendous UltraDisc One-Step 180g 33RPM box set and the question becomes moot.