If you want the best performance form your Sky box, blu ray player or any other equipment that uses the C7 (Fig.8) connector this cable is a must have.
All our "Ultimate" range of cables are the best they can possibly be, designed and constructed using only the best available parts and materials, no stone is left un-turned in the quest for the very best mains power lead possible.
The MK3 version of this poplar model uses Furutech's very best mains plug the FI-1363 NCF fitted with the Synergistic research Quantum purple fuse. There is nothing better that we know of.
The cable is terminated at the equipment end with the Furutech FI-8N NCF rhodium plated Fig.8 connector. The cable we use in our Ultimate range is known only by us as its a painstakingly difficult job matching cables and connectors to get the best possible performance.
Often months of trials and listening sessions until the right sound is achieved. The MK3 version of this cable uses a new foil shielded japanese ultra pure copper cable proven to reduce the effects of RFI and EMI.
Our final tweaks are our own bespoke internal filtering system that fits inside the mains plug and carbon infused outer sleeving to further prevent RFI.
Standard length for The Ultimate Fig.8 Power Lead MK3 is 0.7 metres.
Mains Leads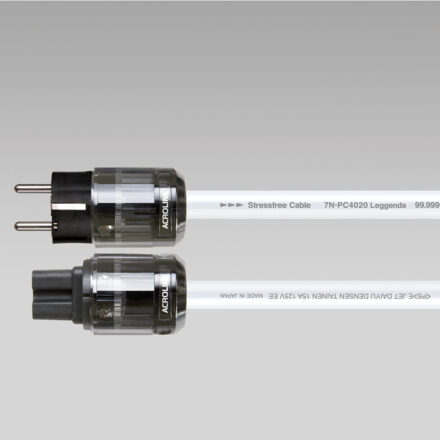 Acrolink 7N-PC4020 Legenda is a 3x14AWG power cable, made with 7N copper conductors for phase and neutral, 5N for ground. The terminals have metal elements silver-plated and perodized. 1.5m fitted with a Schuko plug