Part of the entry level of our mains power leads but not entry level in performance. Using the Furutech FI-11 (Cu) IEC connector which has been cryo treated using Furutech's patented alpha process to remove internal stress in the materials and improve overall performance, a hi-fi lovers delight in every respect, in addition to this exceptional IEC plug we use the matching pure copper Schuko mains plug, it is a perfect match for the Furutech IEC and will give the sound quality of your system an instant boost.
The cable we use for the No. 11 power lead is oxygen free copper 2.05mm diameter with a built in ground loop filter to trap mains noise at the plug end not the equipment end, this will result in a superior performance for your hi-fi equipment compared to standard kettle type mains leads.
Also available with USA | UK mains plug
All our power leads are 1 metre long as standard, longer lengths can be ordered using the add extra cable option next to each products web page.
The No.11 has now been up-graded with our bespoke internal filters in the mains plug and IEC connectors and our new acoustic braiding on the outside of the cable.
REVIEWS………
By Stephen P. on 27 Aug. 2014 :
(5/5)
Title : Mr Steve Puddicombe
Comment : Thank you for supplying the No 11 Power Lead. Having incorporating it into my basic HiFi system I was immediately struck how the performance and clarity of my system was improved. Not only was there more depth and detail I realised I wasI tweaking the volume below its normal level I use, thus using less energy and enjoying a more comprehensive listening experience. Having owned the Amp and Speakers since 1997 I was thinking of replacing them in the near future as everything was beginning to sound a little jaded and tired, now though I will be channelling my funds into other cable and interconnect upgrades thanks to the satisfying results acheived by what the experts say. I will be on the look out for a good amp sometime in the future. I would like to say I am very grateful for the service you have provided to me and I look forward to doing further business in the new year. System:- Arcam Alpha 8 Amp Arcam Alpha 8 CD Paradigm 7se mk111 floor standers Audioquest Ruby 3 / Chord Chameleon 2 Interconnects QED Qudos profile 8 Speaker cable. bi-wired Skyplus HD Box. CYP AU-D3-192 DAC.
(Mains Cables R Us No.11 Power Lead)
By Matthew W. on 27 Aug. 2014 :
(5/5)
Title : Matt White
Comment : Amazing quality, looks the business connected to my Icon Audio phono stage, so good I've just ordered another for my Mitchell Gyro SE turntable. I can see my Amp and CD player will be next for power cable upgrades.
(Mains Cables R Us No.11 Power Lead)
Mains Leads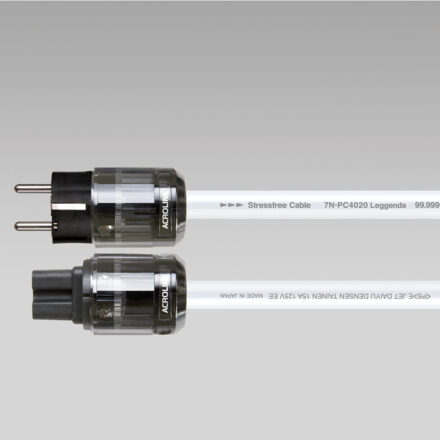 Acrolink 7N-PC4020 Legenda is a 3x14AWG power cable, made with 7N copper conductors for phase and neutral, 5N for ground. The terminals have metal elements silver-plated and perodized. 1.5m fitted with a Schuko plug