NAS drives, music servers and any equipment that is powered by the dreaded wall wart switch mode power supply will suffer as a result. It is well documented that SMPS injects interferance into the mains system and into your equipment itself, vital sound quality will diminish, there are so called "bench power supplies" which provide a stable output but they are not as good as a fully regulated linear design as most are industrial in nature.
The Longdog Audio XLCR power supply has been designed from scratch by Nick Gorham to power any equipment that requires up to 12V DC and up to 12 amps such as the Naim Unitiserve and the Ripnas Statement. Nick has been designing power supplies for MCRU for over 3 years and in that time we have sold well over 1000 power supplies with many being reveiwed in the hi-fi press and ALL the ones submitted gaining the maximum 5 stars.
The casework is 207mm wide  x 315mm deep, the rear panel as a fused IEC inlet and an IsoTek EVO3 Premier power cable to suit your country (UK | EU | USA ) is included, we build to order so please allow 5-7 days for construction and testing, 120V ad 230V versions available and we ship to any country worldwide.
The XLCR power supply simply provides the cleanest supply of voltage possible, sound quality will improve or your money back, no quibbles. Supplied as standard in a silver or black case designed and built in the UK, available with optional up-grades to futher enhance performance, this power supply will enhance your listening pleasure.
Please note the power supply is also available housed in a streacom case to match music servers.
Dac Power Supplies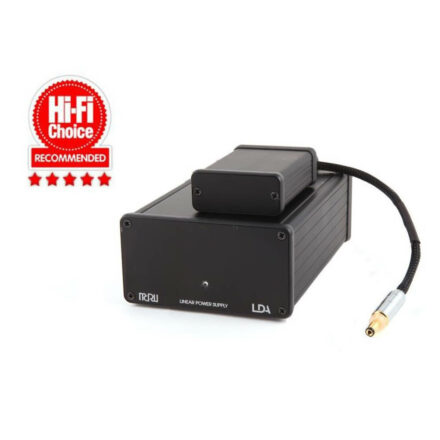 Available Models
OPTION ONE – Standard Model – Basic mains lead £295.00
OPTION TWO Kimber DC Kable, Furutech Gold plated IEC inlet, AMR Gold plated fuse, Supra Lorad mains lead to suit your country  £450.00
OPTION THREE Pure Silver DC Cable, Furutech Rhodium plated IEC inlet, SR Orange fuse, Isol-8 Wave mains lead to suit your country £650.00
OPTION Four Pure Silver DC Cable, Furutech Rhodium plated IEC inlet, SR Orange fuse, MCRU No. 75 SE mains lead to suit your country, MCRU isolation support stand £750.00