Mastered from the Original Master Tapes and Strictly Limited to 4,000 Numbered Copies on 180g 45RPM
Exceptional Clarity, and Full Tonality
Steeped in Blues, Swing, Heaviness, and Firepower: 1968 Landmark Remains One of the Most Influential Albums
Ever Released, Served as Key Blueprint for Hard Rock
The core lineup—Jeff Beck, Rod Stewart, Mickey Waller, Ron Wood—responsible for the groundbreaking performances Truth alone qualifies as a watershed accomplishment. That the 1968 landmark predated and impacted Led Zeppelin's debut; involved members of Zeppelin, the Faces, and the Who; continues to be cited as the blueprint for hard rock; and unspools with indescribable guitar wizardry and primal energy put it into rarefied territory.
Considering the record also involves Rolling Stones session/touring pianist Nicky Hopkins, Zeppelin guitarist Jimmy Page, Zeppelin bassist John Paul Jones, and Who drummer Keith Moon—and includes a rendition of "You Shook Me" that inspired Page—the sheer importance and scope of Truth cannot be over-exaggerated. Neither can the brilliance of the performances or inventiveness of Beck's approaches. Among the most influential sets ever released, Beck's solo debut has never spoken with more truth than on these exceptional reissues.
Mastered from the original master tapes and strictly limited to 4,000 numbered copies on 180g 45RPM 2LP and 2,500 copies on hybrid stereo SACD, Mobile Fidelity's versions put you in Abbey Road and Olympic Sound Studios with the band. Free of the haze and thinness of prior editions, they present the music with three-dimensional depth, revealing texture, and unmistakable liveliness. Just as crucially, and in line with Beck's request in the original liner notes, they also can be played loud without harshness and distortion. The full measure of Waller's foundation-busting percussive thunder can now be enjoyed without limitations. Ditto Wood's steadying rhythms, and the grit and grain present in Stewart's deliveries—not to mention the tones echoing from Beck's notes, sustains, bends, glissandos, slides, and chords. From start to finish, there's not a single lapse.
And that's the straight truth.
Track Listing
Side One:
1. Shapes of Things
2. Let Me Love You
Side Two:
1. Morning Dew
2. You Shook Me
3. Ol' Man River
Side Three:
1. Greensleeves
2. Rock My Plimsoul
3. Beck's Bolero
Side Four:
1. Blues De Luxe
2. I Ain't Superstitious
Music Vinyl LP's
Coming Soon - Pre-order Now
You don't need to be 'Old & Wise' to know this is an absolute essential!
Mastered from the original master tapes, Mobile Fidelity's RTI pressed 180g 45RPM 2LP and hybrid SACD versions of Eye in the Sky feature succulent warmth, magnificent balance, low-end heft, and see-through transparency that take you into the studio with Parsons at Abbey Road Studios. Each note seems perfectly placed, every sequence painstakingly considered. Boasting front-to- back depth, concert-hall-level separation, realistic presence, and bang-on accuracy, the reissues illustrate the lasting importance of perfectionist-minded engineering and recording techniques. These releases will test the capabilities of the world's finest stereo systems. There's more information, more texture, more nuance— more of everything to be experienced. British progressive rock would never again sound so sophisticated, suave, or steady.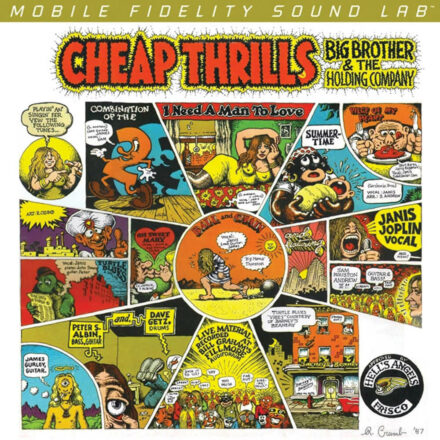 #338 on Rolling Stone's 500 Greatest Albums of All Time: Big Brother and Joplin Convey Fearlessness, Toughness, and Synergy on Every Note
In many facets, Big Brother and the Holding Company's Cheap Thrills is the quintessential album to spring from the outcome of the Summer of Love. Best known as Janis Joplin's major-label debut, the 1968 set arrived when the countercultural movement was in full swing and before co-optation, drugs, and violence signaled the fall of the era. Ranked #338 on Rolling Stone's 500 Greatest Albums of All Time, it puts a female singer in the prominent position traditionally given to a male and showcases a band pouring a potent cocktail of fiery psychedelic, blues, and folk sounds that informed the unfettered creativity of the San Francisco scene. Produced by John Simon, Cheap Thrills also features one of the most iconic and elaborate album covers in history.
Diverse Set Encompasses Ballads, Waltzes, Hard-Swinging Bop
Bill Evans catapulted to the top of the jazz world in June 1961 after reeling off three straight masterpiece sessions at New York's Village Vanguard with his trio. Yet the emotional highs came to a screeching halt shortly thereafter when bassist Scott LaFaro died in a car accident. Devastated, Evans refrained from playing for nearly a year. If not for an inspirational collaboration of tremendous creative outpouring, one wonders what fate may have befallen Evans. Undercurrent, the outcome of two studio sessions with guitarist Jim Hall, is that project.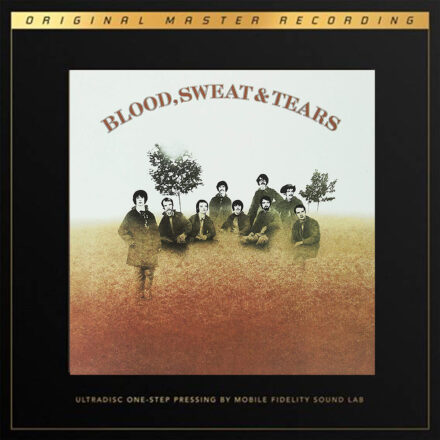 NOW AVAILABLE TO ORDER
Very Limited Availability
Don't call it a comeback. Not only did Blood, Sweat & Tears' eponymous album establish new precedents for musical fusion and record production upon release in late 1968, the quadruple-platinum set marked a new commercial beginning for a cross-cultural group nearly decimated months earlier when its prominent co-founder, Al Kooper, departed along with two other members. The resultant sophomore effort simply went on to top the charts for seven straight weeks, earn the Grammy Award for Album of the Year, spawn three successive Top 5 singles, and land the group a headlining slot at Woodstock. No wonder its reputation remains golden among listeners, particularly audiophiles, which have never experienced the hybrid fare in more vibrant fashion than on this collectible reissue.
Strictly Limited to 3,000 Copies
Understated 1962 Debut Launched Immeasurably Influential Career: Inspired by Woody Guthrie and Blues Legends, Clearest Connection to Dylan's Purist Folk Roots
Made when mono was still king, Bob Dylan's self-titled 1962 debut is as understated of an entrance as any significant musician as ever made. Already well-versed in American roots music, Dylan simultaneously pays homage to tradition and extends it by putting his own stamp on classic material that metaphorically functions as the soil of our contemporary songs and styles. Free of ego, and performed with masterful conviction, Bob Dylan ranks with the debut efforts of similar artistic giants Elvis Presley and the Rolling Stones.
Edgy Personal Album Captures Legendary Artist Straddling Line Between Romance and Suspicion: Includes Beloved Favorites "Forever Young" and "You Angel You"
Bob Dylan's Planet Waves became an event even before the album was released and revealed itself as an understated masterwork. His first studio recording in nearly four years, the homespun 1974 effort finds him reuniting with the Band, by then firmly established as virtuosos. The chemistry is obvious on every song. And the modest and spare production only magnifies the honesty and purity of the collaboration. Mobile Fidelity's 180g LP deepens the music's emotional connection and rustic warmth to the fullest possible extent.
A Visionary Survey of American Music and its Vast Landscapes: Tours Swing, Blues, Country, Folk, and Vaudeville En Route to Becoming a Roots-Rock Landmark
Bob Dylan's Love and Theft is a visionary train ride through the vast American landscape and all its hills, valleys, mountains, river towns, and urban and rural settlements. As they burrow into villages and barrel across trestle bridges, the 2001 record's songs introduce us to outlaws, outliers, gamblers, brawlers, tricksters, bootleggers, and scoundrels. It is, in effect, a commanding survey of and plunge into American music. Named the best album of the year by Rolling Stone and the Village Voice's Pazz & Jop Critics Poll, anointed the second-best album of the decade by Newsweek, and later declared the 385th Greatest Album of All Time by Rolling Stone, Love and Theft remains the Nobel Laureate's finest effort since 1975's Blood on the Tracks – and an extension of the jesting, imagery, and free-form looseness present on his seminal 1960s works. Now, it possess knock-out sound.