Mastered by Kevin Gray at Cohearent Audio from the original master tape
Plated and pressed at RTI
The Blue Note Tone Poet Series was born out of Blue Note President Don Was' admiration for the exceptional audiophile Blue Note LP reissues presented by Music Matters. Was brought Joe Harley (from Music Matters), a.k.a. the "Tone Poet," on board to curate and supervise a series of reissues from the Blue Note family of labels.
The Chicago-born pianist and composer Jack Wilson enjoyed a wide-range of musical associations including work with the likes of Dinah Washington, Sarah Vaughan, Lou Rawls, Gerald Wilson, Roy Ayers, and recording leader dates for Atlantic before he made his Blue Note debut in 1966 with the highly unique Something Personal. Easterly Winds — the second of Wilson's three Blue Note albums and arguably his finest-found the pianist at the helm of a first-rate hard bop sextet with Lee Morgan on trumpet, Garnett Brown on trombone, Jackie McLean on alto saxophone, Bob Cranshaw on bass, and Billy Higgins on drums.
Track Listing
Side A
Do It
On Children
A Time for Love
Side B
Easterly Winds
Nirvanna
Frank's Tune
Music Vinyl LP's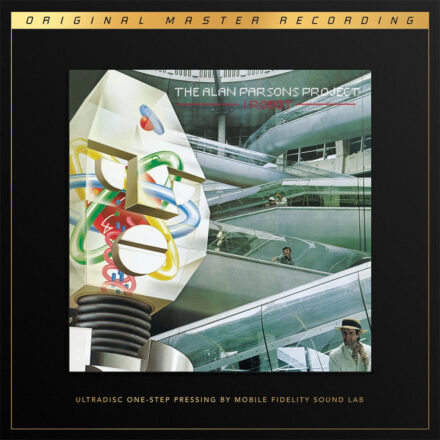 IN STOCK NOW!!
MASTERED FROM THE ORIGINAL MASTER TAPES: ULTRADISC ONE-STEP LP ELEVATES THE AUDIOPHILE STANDARD WHILE OFFERING ONE-FLIP CONVENIENCE Most audiophiles know Alan Parsons Project's
I Robot
by heart. Engineered by Parsons after he performed the same duties on Pink Floyd's
Dark Side of the Moon
, the 1977 record reigns as a disc whose taut bass, crisp highs, clean production, and seemingly limitless dynamic range are matched only by the sensational prog-rock fare helmed by the keyboardist. Not surprisingly, it's been issued myriad times. Can it be improved? Relish Mobile Fidelity's stupendous UltraDisc One-Step 180g 33RPM box set and the question becomes moot.