20 Tracks to help set-up, test and fine-tune your audio system. The CD consists of a mix of music, sounds and voices, incorporating 14 specific test and tune-up tracks alongside carefully selected music from the highly regarded Opus3 music label. This new CD created by IsoTek aims to improve your system's sound by ensuring it is correctly set-up and ready to perform at its best. The Ultimate System Set-Up Disc contains a mix of stunning music recordings from the legendary Opus3 audiophile record label, each one chosen to test specific elements of audio performance such as timing, dynamics and sound-staging. In additional IsoTek have created 14 test and tune-up tracks each carefully designed to help you set up your system and correctly position your loudspeakers. IsoTek have created an fall proof way to insure you obtain the maximum performance from your audio system in a logical, easy to understand way. A simple to use, effective and utterly practical CD that any audiophile can use irrespective of prior knowledge level. Please note, this disc will help you create the optimal stereo sound stage for your particular listening environment. It will require users to adjust speaker position and placement carefully to achieve this. Tracks 5, 6, 7 & 8 are designed as test tracks which highlight if further adjustment is required. Once left to right speaker position is optimized for your particular location use tracks 9 to 12 to improve and test sound stage depth. This will require moving your speakers forwards and backwards at little at a time. Clear spoken instruction is given for each set-up procedure.
Track Listing:
Introduction
Channel Evaluation
Phase Test
Loudspeaker Position & Adjustment
1Sound-stage Test – Intro
Sound-stage Test
360-Degree Test – Intro
360-Degree Test
Stereo Image Depth-Intro
Stereo Image Depth Test 1
Stereo Image Depth Test 2
Stereo Image Depth Test 3
Frequency Range Test – Increasing (20Hz and progressively increases in frequency every 10 seconds to 20kHz)
Frequency Range Test – Decreasing (20kHz and progressively decreases in frequency every 10 seconds to 20Hz) The spot frequencies covered are 20Hz, 43Hz, 93Hz, 200Hz, 430Hz, 930Hz, 2000Hz, 4300Hz, 9300Hz and 20000Hz
Music Tracks:
Eric Bibb: John Henry
Tiny Island: Vaquero
Dan & The Electrons: Shaken Not Stirred
Eva Taylor: Everybody Loves My Baby
Omnibus Wind Ensemble: Frank Zapper
Matthias Wager: Toccata and Fugue in D-Minor (J.S. Bach)
Award Winners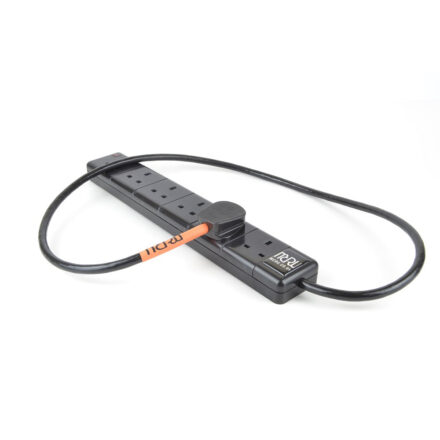 Hi-Fi World Recommended
Silver Plated Rails
Belden 19364 Cable
"NEW" Up-Graded Filtering System
1 metre long as standard
Newly developed set up CD from Isotek Systems now at MCRU. A variety of tracks featuring specially developed algorithms, which create a unique set of signals to reduce burn-in time and 'run-in' equipment.
The disc can also demagnetise audio and audio-visual components.