The EVO3 Genesis One is a state of the art single cell sine wave generation system with extremely low THD. The system can be used to dramatically improve single front-end components. Each cell can be combined / linked together so that only one input wall socket cable is required.
Removes both Common Mode and Differential Mode mains noise.
Dedicated single outlet delivers totally clean low distortion reconstruction mains sine wave.
Unique single cell mains sine wave generation system exceeding 85dB of noise reduction extending to zero Hz running in class D amplification with a linear power supply.
Internal wiring; solid core silver plated PCOCC with FEP virtually an air dielectric.
100W of totally clean power for all front-end components.
More information about the Genesis ONE is on the IsoTek website.
Up to 6 units can be connected together powered by 1 mains lead (all units link using an IsoTek linking cable)
Mains Filters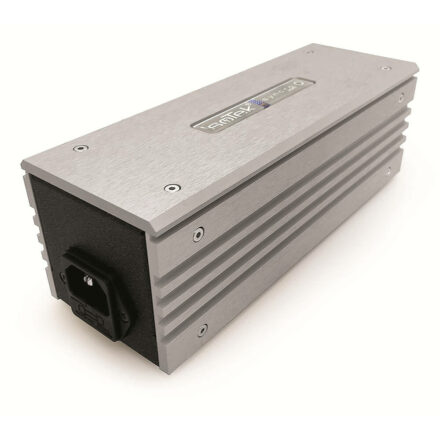 MCRU have 2 Units Ex-Demonstration
Reduces/eliminates transformer hum by replacing the mains sine wave on the zero volts line
Uniquely removes harmful DC by re-balancing the mains sine wave
Silver plated OCC (Ohno Continuous Cast) copper solid core internal wiring cable.
Virtual Air Dielectric using a Teflon FEP bridge, this offers chemically inert and very low dielectric constant over a wide frequency range
16A or 10A rated versions to the following output sockets UK, EU, US, Australian
Can be used with all ranges of power cables
The Furutech Flow-15 Plus Inline Power Filter effectively removes all of that high-frequency noise from the mains power before it reaches your components.