MINISUB WAVE
Both the MiniSub Wave and MiniSub Axis share the same fundamental layout and filter complement. The differing technical requirements of low and high current loads are reflected in the separated filter topology found in both versions.
For low current loads, such as source components, each outlet has a separate filter network. This is the feature that made the original MiniSub such a ground breaking product. It reduces system component cross contamination, stopping mains borne noise from one system component affecting others.
Specifications
Number of available outlets:   6 (4 low/med current. 2 high current)
Type of outlets available:   13A British chassis sockets
European Schuko sockets
15A US sockets
Standard Mains Inlet:   10A IEC fused at 10 Amps (cable not supplied)
Dimensions:   444 x 85 x 305mm (W x H x D) excluding connectors
Product Weight:   6.5Kg (MiniSub Wave)
6.7Kg (MiniSub Axis)
Construction:   Steel chassis with black finish.
Silver Aluminium front panel (Black optional)
Mains Voltage:   230VAC version for 220-240VAC
117VAC version for 100-127VAC
Maximum Continuous Current:   6 Amps any one low/med power outlet
6 Amps across all low/med power outlets
10 Amps any one high power outlet
10 Amps across all high power outlets
Mains Blocks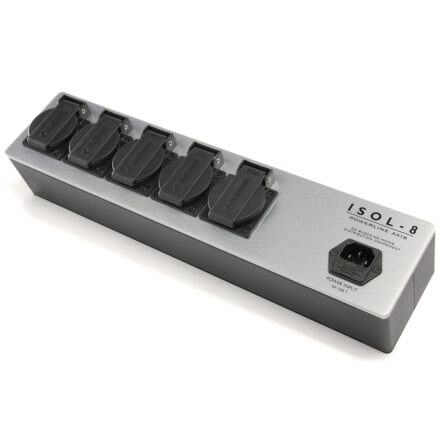 One unit ex-dem with SCHUKO sockets (EU type) The PowerLine Axis provides an innovative cure to the problem of DC on the mains supply. In theory the mains waveform should be pure AC: a perfect, symmetrical sine wave. In practice the waveform can arrive at the end user clipped, distorted and asymmetrical with a significant DC voltage component. The AC transformers commonly found in equipment power supplies cannot, by nature, tolerate significant DC without being compromised. The PowerLine Axis has five high quality outlets served by a network that re-centres the voltage axis of the mains waveform. This eliminates any DC voltage on the mains power supply, suppressing mechanical hum and liberating performance.