IeGO Dreamworks is a manufacturer of audiophile-grade cables and connectors, and produces some of the best connectors available – regardless of price. Based in Taiwan and in business since 2000, leGO manufactures parts for many of the worlds top cable companies.
IeGo products are manufactured in-house, they use Furukawa copper as the base material for all of their copper based connectors unlike many competitors, who use phosphor bronze and brass, which is not as good a conductor as pure copper.
The 99,99% pure Japanese "prime grade red copper" is acid-bathed to remove impurities and the entire connector is deep cryogenically treated at -240°C for 20 hours to relieve internal stresses within the material, which also improves conductivity and hardness of the material, so the contacts are not bent.
The IeGo Schuko plug is made from pure Furukawa copper and then hand polished. The housing is a special PVC manufactured in Japan by General.
IEC & Fig.8 Connectors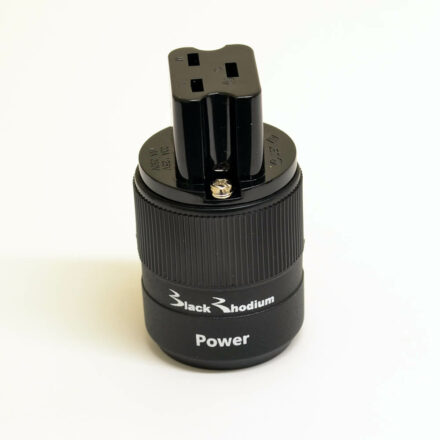 Rhodium plated audiophile quality C19 IEC connector in stock at MCRU.
Brand new IEC connector from Black Rhodium. Featuring rhodium plated copper contact pins and large cable entry receptacles, quality engineering and robust construction.