IeGO Dreamworks are manufacturers of audiophile-grade cables and connectors, and produce some of the best connectors available – regardless of price. Based inTaiwan and in business since 2000, they manufacture parts for many of the worlds top cable companies.
This is one of their best products – a pure silver IEC connector (because of the unparalleled high purity, the silver is derived from coins melted down by the Norwegian mint); and for the same price that others charge for silver or rhodium-plated connectors.
IeGO products are manufactured in-house; and we do not know of any other manufacturer that uses such high-grade materials and pays such attention to detail, at such competitive prices. These are stunning connectors would not be out of place on power leads costing thousands of pounds.
Please note, that as these pure-silver IECs sell out on a regular basis, we cannot specify whether the colour of the outer case will be clear, brown or blue.
IEC & Fig.8 Connectors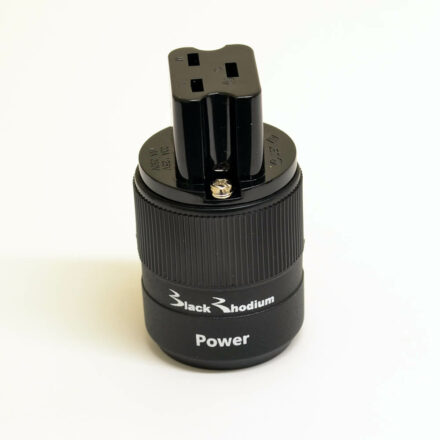 Rhodium plated audiophile quality C19 IEC connector in stock at MCRU.
Brand new IEC connector from Black Rhodium. Featuring rhodium plated copper contact pins and large cable entry receptacles, quality engineering and robust construction.