Over the past decade, new talents such as Cassandra Wilson, Patricia Barber and Holly Cole have redefined the world of female jazz vocals. Cole's Temptation, a 1995 Blue Note release, is her musical tribute to the writings of Tom Waits. Besides being a superb audiophile recording (perfect in every production detail, from the rendering of Cole's amazing voice to the incredibly natural sound captured by producer Craig Street's team), this album has garnered kudos for her interpretation of Waits' unique compositions.
Now hear how our Analogue Productions' 200-gram LP reissue makes this standout album even stronger! Doug Sax at the Mastering Lab, assisted by Gavin Lurssen remastered the 33 1/3 recording that gives Cole's vocals richer detail and greater body. Premium pressing by Quality Record Pressings provides flawless reproduction against a super-silent background for pure listening enjoyment. Lastly, top it off with a Stoughton Printing old-style tip-on jacket and this disc is a sure winner. A great addition to your jazz collection.
Standout tracks include a catchy version of "Jersey Girl," which made it onto a number of radio playlists, and a rendition of "The Briar and the Rose," augmented by the Canadian Brass. Also included are "Take Me Home," "Train Song," "Temptation," "Falling Down," "Invitation to the Blues," "Frank's Theme," "Little Boy Blue," "I Don't Wanna Grow Up," "Tango 'til They're Sore," "The Heart of Saturday Night," "Soldier's Things," "I Want You" and "Good Old World."
Track Listing
Take Me Home
Train Song
Jersey Girl
Temptation
Falling Down
Invitation To The Blues
Cinny's Waltz
Frank's Theme
Little Boy Blue
I Don't Wanna Grow Up
Tango Til They're Sore
(Looking For) The Heart of Saturday Night
Soldier's Things
I Want You
Good Old World
The Briar And The Rose
Shiver Me Timbers
(Looking For)The Heart of Saturday Night
Last Rose of Summer
Music Vinyl Lp's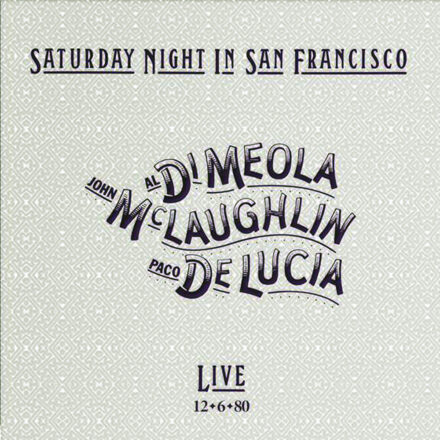 Now In Stock
Audiophile 180g 33rpm Vinyl LP Never before released!!!
Assembled from the original 16-track analog live session tapes by Al Di Meola with engineers Katsu Naito & Roy Hendrickson Mastered from analog tapes by Bernie Grundman at Bernie Grundman Mastering Pressed at Record Technology Inc. Deluxe new packaging with never-before-seen photos Exclusive essay by Charles L. Granata feat. new interviews with Al Di Meola & original recording engineer Tim Pinch Long-Awaited Follow Up To Friday Night In San Francisco! From Original 16-Track Analog Live Session Tapes by Al Di Meola, Katsu Naito & Roy Hendrickson! Mastered From Analog Tapes by Bernie Grundman! Pressed at RTI!