180-gram mono LP
Mastered by Kevin Gray at Cohearent Audio from the original master tape
Plated and pressed at RTI
Includes the hit "Lady Sings The Blues" written for Billie Holiday
The Blue Note Tone Poet Series was born out of Blue Note President Don Was' admiration for the exceptional audiophile Blue Note LP reissues presented by Music Matters. Was brought Joe Harley (from Music Matters), a.k.a. the "Tone Poet," on board to curate and supervise a series of reissues from the Blue Note family of labels.
This mono Tone Poet Vinyl Edition was produced by Joe Harley, mastered by Kevin Gray (Cohearent Audio) from the original analog master tapes, pressed on 180-gram vinyl at Record Technology Inc. (RTI), and packaged in a deluxe gatefold tip-on jacket.
Following his introduction on the two 10″ LPs The Prophetic Herbie Nichols, Vol. 1 and Vol. 2., Nichols returned to Rudy Van Gelder's Hackensack, New Jersey studio in August 1955 with drummer Max Roach and bassist Al McKibbon-and again in April 1956 with Roach and bassist Teddy Kotick-for sessions that produced Herbie Nichols Trio (BLP 1519). This 12″ LP was another collection of idiosyncratic Nichols originals including "The Gig," "House Party Starting," "Wildflower," and perhaps his best-known composition "Lady Sings the Blues" which was written for Billie Holiday.
Track Listing
Side A
The Gig
House Party Starting
Chit-Chatting
The Lady Sings The Blues
Terpsichore
Side B
Spinning Song
Query
Wildflower
Hangover Triangle
Mine
Music Vinyl LP's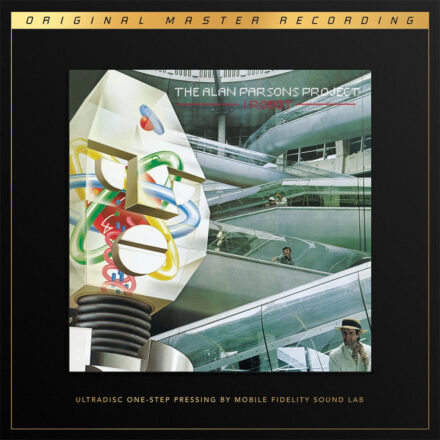 IN STOCK NOW!!
MASTERED FROM THE ORIGINAL MASTER TAPES: ULTRADISC ONE-STEP LP ELEVATES THE AUDIOPHILE STANDARD WHILE OFFERING ONE-FLIP CONVENIENCE Most audiophiles know Alan Parsons Project's
I Robot
by heart. Engineered by Parsons after he performed the same duties on Pink Floyd's
Dark Side of the Moon
, the 1977 record reigns as a disc whose taut bass, crisp highs, clean production, and seemingly limitless dynamic range are matched only by the sensational prog-rock fare helmed by the keyboardist. Not surprisingly, it's been issued myriad times. Can it be improved? Relish Mobile Fidelity's stupendous UltraDisc One-Step 180g 33RPM box set and the question becomes moot.